This is another post that I have held on for more than 3 months, I didn't write about it right away not because the blush was so boring that I didn't know what to say about it. In fact, I love it so much that I could not think about any sarcastic remark to make and I might as well be one of those YouTube reviewers who says nothing but "This is so cute, it works well on me, I love it!" in a 10-minute review... (And you wonder why I don't watch YouTube videos that much...)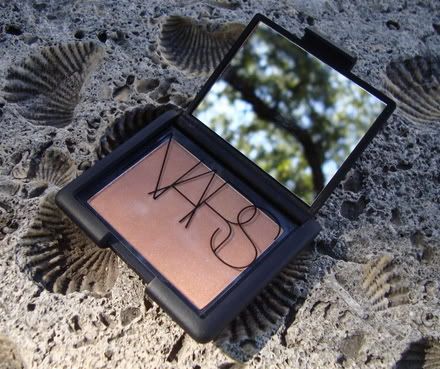 NARS
powder blush in Luster
is a blush (duh) in boring-looking neutral golden apricot. When I say golden, I am implying that it's warm but it's neutral in a way that the color neither lean toward the orange side nor the pink side. This characteristic makes the color blend in my skin pretty well, instead of popping like a huge patch of diaper rash or sunburn.
It was a tough decision buying this as (unlike her other flashy sister suck as orgasm, exhibit A, angelika and desire) luster looks positively boring on the pan, just like a light bronzer with some shimmer (and bronzer usually looks like dirt on me). But after reading quite a few blog reviews as well as the ones from Makeup Alley, I decided to cave in/give it ago as I haven't seen anything negative about it.
One paragraph is not enough to describe how much I love Nars Luster, so here are three:
Shade
: As I have said Luster is a medium and mid-tone apricot that seems very neutral and almost a bit boring but for some reasons, the medium apricot instantly transfers into a sweet peachy shade once I dust it on me cheek. The color is quite youthful but not in a loud-and-squeaky-Asian-girl-band way, it's more like a natural, innocent flush like the kind I have when I was a kid. While the color is a very natural flush on me, I can see it appears as a very healthy glow on girls who are a tad darker.
Texture
: NARS products in powder form has some of the nicest texture I have seen, luster is one of them. The blush feels very fine and malleable that a very tiny swipe of the pan will give me an even, silky finish, I can somewhat feel the powder glide on my face while creating that perfect flush. Texture wise, I think I prefer luster over super orgasm (which itself has some only-there-to-annoy-you glitters) as I feel that I have more control over the products without using a bunch of it.
Finish:
Didn't I say that it's silky? Well, it is and there is more to it: I usually prefer matte blushes over shimmery ones as shimmer usually exaggerate flaws like flaky skin, spots, pores (although I don't have open pores on my cheeks) and redness not to mention sometime glittery can go totally disco ball on me and makes me look oily. As for Luster, the shimmer is quite fine and delicate that I don't see them as glitter, it's more like a very healthy glow.
Overall, I love NARS luster so do stop by Sephora and try it on (unless you are anal like me), you might be surprised.