Ever since I got an eczema on my right hand, hand cream is slowing becoming a beauty necessity. While I miss my intact fingerprint, I rejoice at the idea of having more excuses to buy craps. EOS Berry Blossom Hand Lotion is the first drugstore option, because (God knows when would TJ-maxx restock those Crabtree & Evelny hand cream)...it's on sale, yup.
EOS Berry Blossom hand lotion (Soothe variety), like all EOS products, comes with a cute/gimmicky packaging, mostly natural formula that's free of paraben, phthalate, lanolin and dye. The light lotion has a fresh (not fresh and natural, but in a way that it reminds me of shampoo or hand soap) berry-floral scent that's a little strong and lingering.
A side note about the packaging: While the pink semi-hard plastic case is cute, small and very purse friendly, dispensing the product gets increasingly difficult as you are using it up - To squeeze out product from a half empty tube, you need to first get out of the air that's inside the cavity and keep squeezing and since you never know where the lotion is (the plastic is opaque),then a big glob of lotion would just squirt out when you are least ready.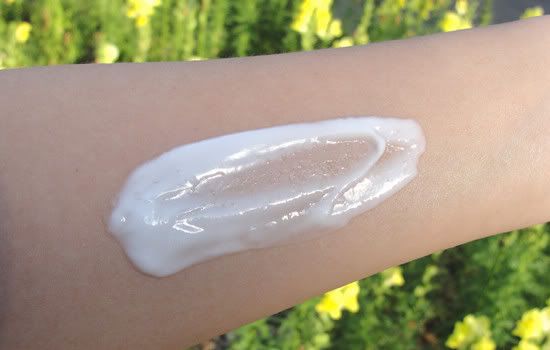 The texture of the Berry Blossom hand lotion is...exactly like a light weight body lotion. While it does damp my skin a little and provides initial itch relief, it sinks in quickly, only leaving a little bit of oily film that makes the back of my hand softer. It makes my hand feel more oil-up (not that it's oily) than moisturized and as of long (as in longer than an hour) term effects, the only thing I noticed is that every time I used it, my eczema ended up flakier and itchier the second day. I guess it's a good thing if you like picking dead skin?
Overall: It should be a great item to toss in your bag, if you stay in air-conditioned room and want some instant boost of...wetness. Otherwise, it's like those EOS lip balms - gimmicky and with little practicality. (At least the bright color, gummy packaging and delicious smell of the lip balm make the gimmick cool).
P.S. The nail polish was Borghese Buon Vaggio Mauve (which somehow looked a lot darker...along with everything else in the picture).