I really dislike elf's online management team: (product quality control issues aside) Not only they just randomly add bloggers to their mailing list, without asking for permission or simply giving a head-up then continuously spam us with "Hello Beauty Bloggers" emails, expecting people to just promote for them/put up their press releases. I have also heard about how they used Temptalia's photos on their news letter, when no actual elf product was use, and no permission was asked/given...
Anyway, I guess they didn't get on my last nerve (putting their email into spam list didn't take more than a few seconds) so I still look through their new stuff in stores and pick one or two toys to play with from time to time.
Elf Hypershine Lip Gloss in Flirt ($1) is like a cheap man's Stila lip glaze, with a thin click-y tube and brush tip. I normally hate built-in applicator but for how little this contains (a bit over 1ml), my OCD self was totally fine. Flirt is a light shimmer-free yellow-pink with a texture of thick cream gel - it wasn't particular smooth or line-filling but it's not gooey and hard to spread either.
On the lips,
elf hypershine lip gloss in Flirt
offers slightly less coverage than Stila Lip Glaze (the similar shade I tried was
Grapefruit
) but it didn't look blotchy/frosty either. As with most (if not all?) elf lip products I have tried, the hypershine gloss gives me lip a bit of sting/numb sensation (you would think my lips are invincible after trying so many glosses...) which is enough of a deal breaker for me, even though the gloss doesn't have any other flaws.
I am glad that I have tried one so now the 3 piece hypershine set (I just like the sheer red though) is officially crossed off from my to-buy list. As cheap as they are, elf glosses aren't that great of a deal since their unit price is similar to glosses from Maybelline/Revlon yet they rarely go on sale in stores ( I never want to shop for drugstore products online anyway) and the quality usually is not as good.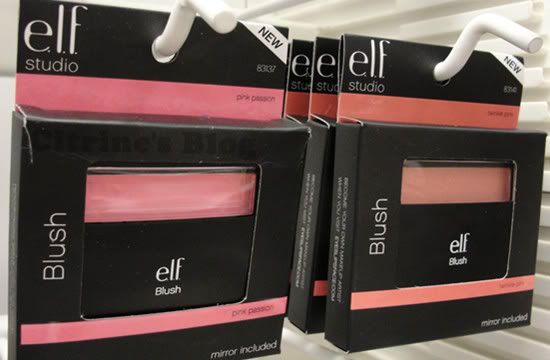 While I was at Target, I almost picked up Tickle Pink (a shimmery peachy pink)...then I had to remind myself how many similar shades I have. Mental note to self: Need save up for Paul & Joe and Majolica Majorca's summer collection!