Bunch of Sally Hansen stuff at Walgreens - Microwavable Eyebrow, Creme Face & Lip Wax Kit, Hair Remover and Creme Hair Bleach. There is a 2 dollars off coupon attached to the display so I might give the wax kit a try since my eyebrow and mustache are a little out of control now the weather is warmer (It's not even full-moon yet!)...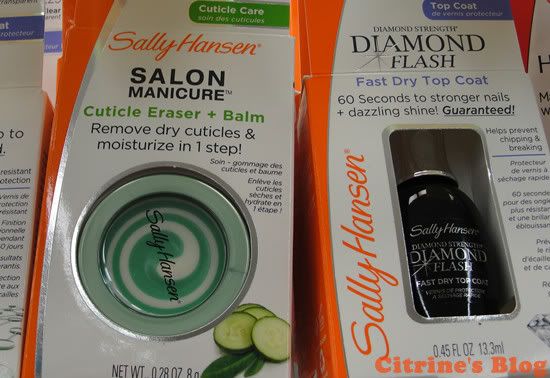 Interesting swirly cuticle remover and balm and Diamond Flash fast dry top coat
Smooth & Strong Base Coat, Ultra Wear Top Coat, Double Duty Base & Top Coat and Hard As Wrap

Miracle Nail Thickener, Nail Nutrition Green Tea and Bamboo Nail Strengthener, Nail Growth Miracle Salon Strength Treatment and Green Tea + Olive Growth Treatment (I have been wanting to try this mini range for quite a while since I love bamboo and green tea...or anything with a green packaging).

Quick Care Cuticle Treamnet Pen, Nail Nutrition Green Tea (another want...maybe I just want it to take pictures of it) and Soil Cuticle Oil, Healthy Cuticle Vitamins Treatment, Gel Cuticle Remover and Cuticle Massage Cream