Physicians Formula Organic Wear Lash Boosting Mascara is actually the first mascara I have purchased intentionally since summer 2010 (Yeah, yeah...I have reviewed other mascaras but it was mainly because they came with a bonus pact that went on sale/clearance). The mascara comes with a glossy black flatworm-shaped tube with green prints, the design is cute even thought it's unnecessary bulky (and hard to balance if I want to photograph it upright).
Just like the tube, the wand of the Organic Wear lash boosting mascara is also quite bulky. The size reminds me of Covergirl Lashblast but the core is thicker and each of the abundant individual bristles (made of stiff plastic instead of rubber) is rather short (compared to most mascara I have tried) that I poked my eyes and left smudges quite a few times when I was trying to work it from the roots. The smudge can be removed effortlessly with just a bit of water alone, thanks to (or not?) the non-waterproof formula.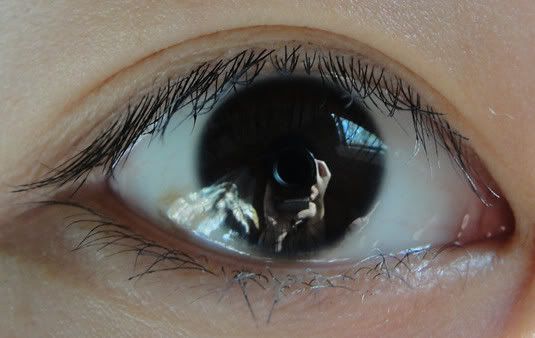 The mascara has a medium texture that's neither too runny or creamy and combined with the fine tips, the wand does a great job separating the lashes and give a clean definition. With a bit of layering, I can actually achieved rather dramatic length and volume but it also becomes very heavy (and starts to fog up my glasses). Basically, I would call it a nice, everyday mascara if it doesn't smudge like a mofo: Lower lash line usages is already a no-no since it give me a raccoon eyes within 30 minutes, when an tiny bit of oil/moisture is present (that includes moisturizer). On the upper lash line, it smudges a little within 2 hours when everything is kept dry...So, I didn't notice any lash growth since most of it ended up under my eyes.
Overall: A natural-looking mascara with pokey wand and water soluble formula (great for people with extra dry lids and who are use eye makeup remover?).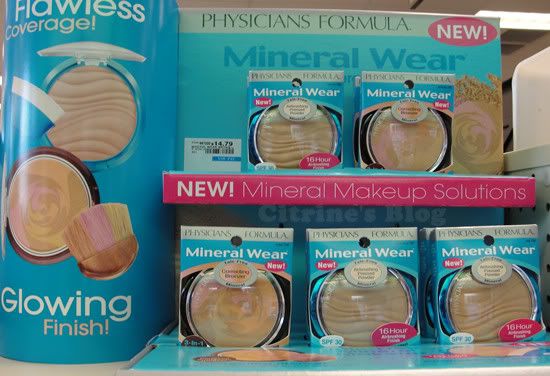 To end this review, a single spy cam picture of the new Physicians Formula Mineral Wear powder and bronzer (and some 16 hours airbrushing claim? )