A few weeks ago CVS had a promotion on Nivea products, beside the extra bucks reward with purchase, there was also a coupon for the mini Nivea Cream tin (which made it free afterward). Since I have reviewed the German version a year ago, I reckon it would be fun to see how "badly" the American version performs in comparison (at least that was the impression I have gotten from other reviews: "The German version is holy while the American one is thick, oily, clogging and smells cheap...").
The American Nivea Creme was made in Mexico and comes in small tins and bigger screw-on plastic jars (German version uses tin for both sizes), both sealed with a layer of foil. As soon as I opened the package, I noticed that the scent of American Nivea is sharper, more perfumed and generally a little "cheap". If the German Nivea is an approachable grandma, the American versions just reminds me of a beauty session of Asian super market (piled with shady products with shabby packaging), as undesirable as it sounds, both version kind of grew on me with repeated usage.
Ingredients of American Nivea - beside some sort of preservatives at the very end (and different ways we and the European name some of the compounds) , the only major difference between this and the German Nivea is the third ingredient petrolatum (not found in German version).
Thanks to the presence of petrolatum (aka vaseline), the American Nivea has a "greasy" (but it's not oil though) sheen and much better slip to it, it takes me much less effort to dig and spread out the product on my face and it also seems that this get absorbed more quickly, just/still leaving a tad bit of residue. The cream is very thick that it does a great job getting rid of small dry flakes I have, but it gives me several milia seeds (small squeezable white zits) when I use it on warmer days, I am OK with this since this kind of zit heals quickly and don't scar (unlike the type German Nivea gave me).
Overall: If want a simple, emollient moisturizer to tackle minor dry flakes, American Nivea is worth looking into (Though the thick formula of German Nivea might be better for people with weather and/or dry skin), consider it's very accessible and affordable (a small tint costs 80-99cents and big one is under 7 bucks during sale). Personally, I don't think that the Germans are keeping the best stuff for themselves, it's just different products for different needs.
By the way, here are also some spy cam pictures of all the new Nivea body care products...It's just more efficient to put them here in a single post.
Power Fruit Cranberry, Blueberry shower gel, Touch of Renewal Body Scrub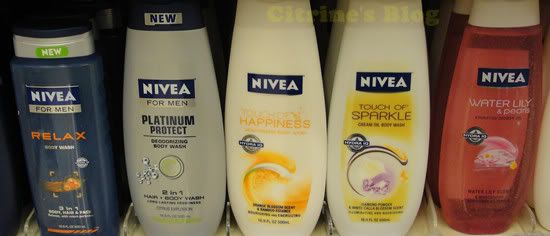 Patinum Profect deodorizing body wash, Touch of Happiness, Sparkle and Waterlily and Pearls Body Wash
More for Men products - Active 3 Shower, Shampoo and Shave, Energy / Cool Hair and Body Wash, and Relax Body Wash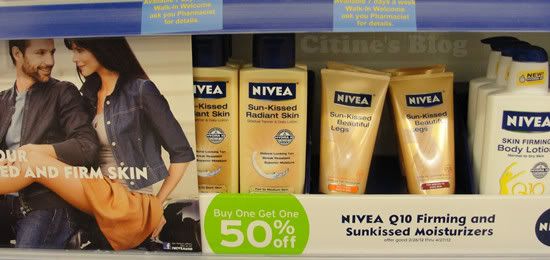 Sun-Kissed Radiant Skin body and legs lotion, Skin Firming Lotion
Happy Sensation, Express Hydration (tried it on my face, gave me quite a few zits the day after) , Maximum Hydration Nourishing Lotion for dry face, Smooth Sensation and Essentially Enriched.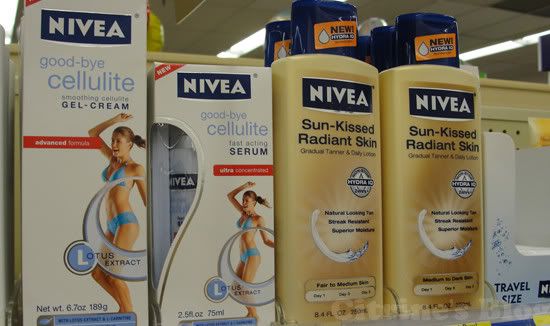 Good bye cellulite gel cream and fast acting serum