A few new shades for Essence Eyeshadow Singles
Quattro Eyeshadow (the green is just renamed into Wood you...I forgot the name), I only remember the one one upper right is called something Ice Cream and the blue quad is Denim 4.0
An eyecatching one called Over the Taupe - I have tried a palette from this range (didn't review since it belongs to my friend) and the texture actually seems a little chalky.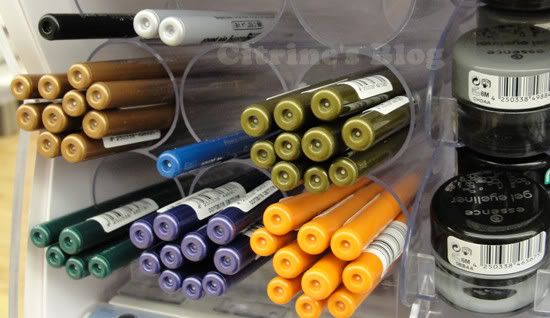 Long lasting eye pencils and gel eyeliner (they replaced the purple with a medium silver)
Liquid Eyeliner in normal and waterproof formula
Essence Colour and Go quick drying nail polishes
Shades of blue and purple
XXXL Shine Lipgloss - Sparkling Papaya is such a cute name!
Two new shades of Stay with Me longlasting lip glosses are added - A pale nude cool rose with golden shimmer and a sparkling magenta.
Several new Essence lipsticks are being added but I only saw two new testers : Frosted (a pale frosty pink) and Coralize Me (sheer medium coral with silver shimmer). The new shades seems to have a better, less Play-don like scent.
Ok, that's about it. I left out the pictures for mascara since it came out very blurry. At first I was interested in quite a few items (the brushes) but now I actually can't think of anything I really really want to try (Maybe the one more Stay with Me lipgloss?) . What about you guys? Did you see anything interesting?