Long time no sui! The Anna Sui powder blush was actually a purchase from...urgh...2009 that I totally forgot. Anyway, now I am just hurrying up with ancient reviews like this, so they don't get pushed into 2012.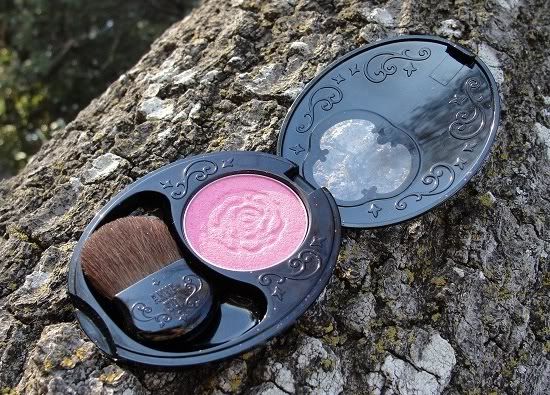 Anna Sui Face Color Accent G in 305
was one of the three new (well, it was new when I got it...) release back in spring 2009.Basically, Anna Sui discontinued three shades in their Face Color Accent line and replaced the highlighter, pink and contour shade with three similar ones. Instead of putting the newbies into the permanent range, they ended up naming them Face Color Accent G (not sure what it stands for). 305 is a blue pink (that's slightly deeper than baby pink) that gave me a lot of trouble when I took pictures of it (it's either too pale, in this case or turns blue in picture). The rose scented powder blush has a reasonably smooth texture and a medium pigmentation that's hard to overdo.
305 appears matte at first but once it has been swiped a few times, loads of fleck-like silver glitter (or iridescent flakies). Looking barely unnoticeable, the flakes impart a little dimension on the cheeks (more like it makes the skin somewhat see-through) that's cute without being over-the-top. Beside the subtle transparency it gives to skin, the flake also cause the blush surface to be very rough: Every time I use the blush, I get massive fall off allover the the blush's glossy black interior, which looks pretty off-putting and becomes a pain to clean up (especially around the hinge).
Actually, the fall-off totally reminds me of a Mandopop song by Jay Chou called
Hair Like Snow
(click to see sissy Asian guy sings). The first time I heard of (the title of the) song. I was like "Who the heck would write a song about dandruff."
Lastly, an image of three Face Color Accent G (since it's actually more color accurate) taken from Anna Sui cosmetics official site.)
Overall:
The effect the blush gives is nice, and I do like the black (low-maintenance by itself) shiny packaging and the soft-and-usable natural-hair brush it comes with...but the clean-up part is
so not
worth it. There are so many blue pink blush (as seen in
this post
from Rocaille) in the market, you are most likely better off with more affordable choices.