Fall is finally around the corner (I guess I have said it a few times but this time I am serious...in a few days, I will be able to ditch the athletic shorts for a change...or maybe just add tight/legging underneath, like what I usually do.) so it's time to be a sunscreen-slacker and use SPF lotion instead!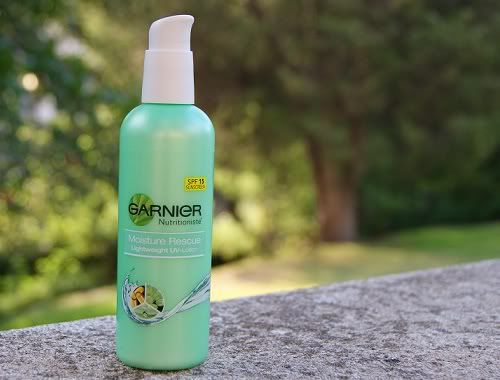 Garnier Moisture Rescue Lightweight UV lotion is one of the three items in their
Moisture Rescue Range
, which was out last fall. The light lotion offers SPF15, a light (but not runny) texture, soft, slightly soapy cucumber scent and a decent amount of moisture that is quite enough for my normal skin during drier seasons and not really needed for summer.It does what it's supposed to do, giving my skin a lightweight moisture, so I guess this is the end of review?
Anyway, the SPF 15 in this is a little bit of a joke, back in early July I wore it outdoor for a 30-minute morning walk and when I got home, my face was three shades darker. Keeping it for fall seems to be a good decision...