Don't be too excited, because the Anna Sui 15th Anniversary Furniture (Limited Edition at Isetan) , at 8190 yens, including a mirrored futon with a pair of heels and a hand bag (attached to the whole piece?) , is doll sized instead. On a happier note, the futon also double up as a jewelry holder so this piece is both collectable and functional.
For me, I do like little doll sized item (as for actual dolls, a whole different story...) since they look intricate and are much easier to photography...Sometimes, to have photographed is to have (at least for me, since I don't take good care of stuff I own anyway).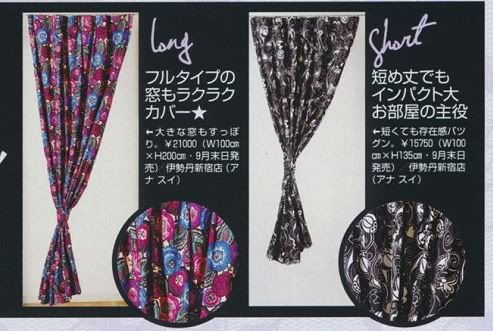 Here are some human-sized curtain if you feel like dressing up your room a little. The curtains are 21000 yens 9 for the long one, and 15750 yens for the short ones...I think I much prefer spending 200 dollars on jade than curtain. Purple floral fabrics aren't that hard to find anyway...
P.S. Photos are from the November issue of Vivi magazine.