For a long time, Mint Julep Clay Mask has been the star (and only) product from Queen Helene but now, several more masks are available from the brand for a pretty affordable price (at most 4 bucks).
Spotted at ULTA, new Avocado & Grapefruit Mask , Grape Seed Extract Peel Off Masque (I think this type of product tend to stretch my pores) and Oatmeal n Honey Natural Facial Scrub (tried it, smells pretty good but the formula is a little too harsh. The granules seem to be even sharper than the ones from normal St. Ives scrub).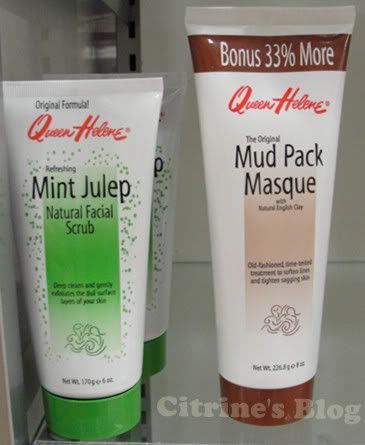 Now there is a Mint Julep facial scrub (I wonder would it sting like mad if you use it right before the mask...) and a big tube of Mud Pack Mask ( I think I have never seen a tube of Mint Julep mask that didn't say "extra 33%" ), which I am quite interested.