Jadeite Jade Carving - An unrelated Cover Page (and sneak peek of my upcoming posts)
Before heading back to normal posting schedule, let me give you an update on the whole
Luuux and Sandy Tings ordeal
I blogged about two weeks ago. Even after having all of the six infringing posts (I found then) removed, I knew that it would be a matter of time before some of the users start "sharing" my pictures again... I just didn't know the content thief leader Sandy would roll back this quickly...On the 23rd, after seeing yet another one of my pictures got taken by her, I finally took the plunge and created an account, just so that I can ask her what exactly was going on in her head...
Here are our e-mail exchanges. I don't think Sandy will mind me revealing that as she has acted quite classy, calm and relaxed through out the conversation.
I
am the one who was on the verge of going ballistic so please excuse my sarcasm...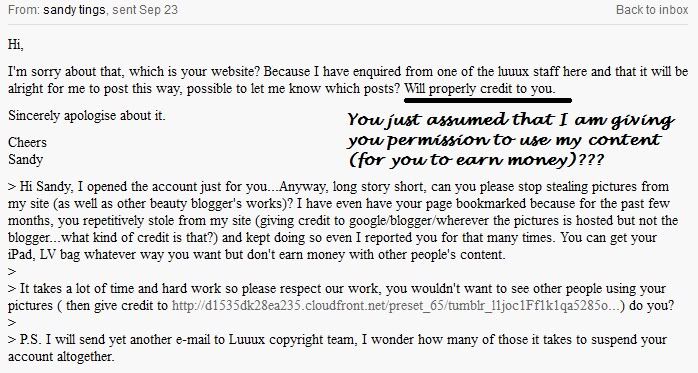 Her rationale on stealing and "sincere apology"...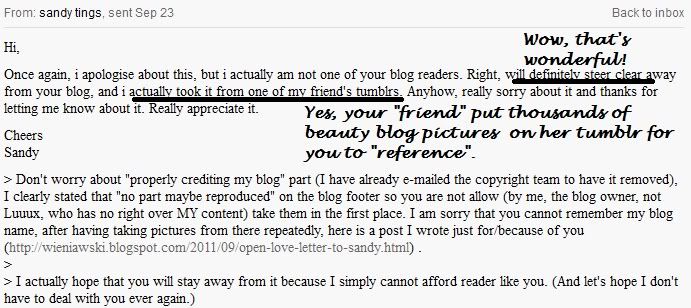 I replied back "That's wonderful! Cheers!", fully relieved that I would never have to deal with her (or see her "lovely" face right next to my pictures) ever again . Three days later...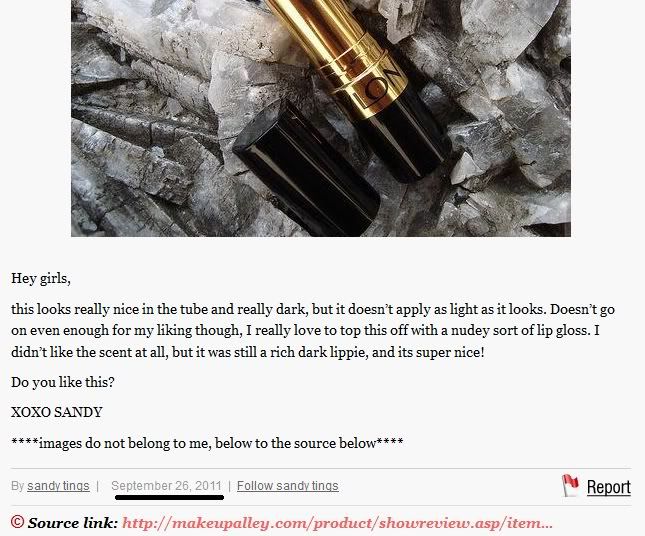 If you think Sandy Tings is just too dim-witted to credit properly...No, she is pretty manipulative. For the past two weeks or so, she has been uploading each blogger's picture to Makeup Alley before re-posting on Luuux, so that whenever she is called out for, she can blame it on that "unknown Makeup Alley user" (you can't find out who uploaded the picture on the product page) that might as well be herself (not to mention this is another "rightful" way for her not crediting the blogger).
So I guess it's time to write up yet another e-mail to Jessica the Luuux manager (At the rate I am contacting her, it seems like we are high school buddies or something), which is (thanks God) an effective way to have them removed because Luuux is indeed, "Legitimate and legal".
Just to give you an idea how many infringing posts by various users I have found (this week alone). Granted, some of them linked back to my blog (zero of them has asked for/received my permission). To those who have your post deleted upon my request, I am so sorry (I totally don't mean it), but I am just extremely uncomfortable seeing my pictures on Luuux.
P.S. Normal posting will resume shortly and in the meantime, feel free to take a look at the blog of Sandy Tings (just Google her, I don't want to link the site), you might find something (she steals approximately 10 pictures per day) familiar.