Dabao is a 26-year-old skincare brand based in Beijing, China (the company was acquired by Johnson & Johnson's in 2008) known for their SOD milk and cheesy TV commercial. The line is widely available in supermarket there with a price range of 10-60 RMB (which means at most 9 US dollar for anti-aging cream but most basic skincare is priced below $3).Consider the current price point that's fueled by housing bubbles in China, this line is truly cheaper than cabbage.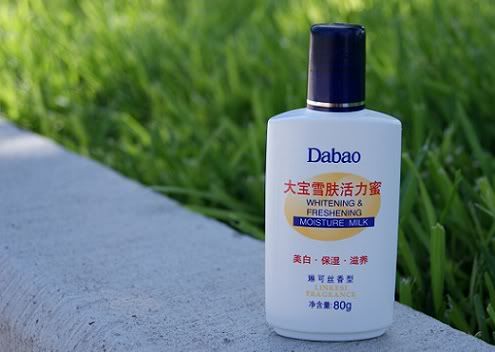 Whitening Freshening Milk (with a Linkesi fragrance, a name I believe they just made up) is a moisturizing lotion to be used both day and night that claims to whiten (a claim you can safely ignore as it's added to almost any skincare item), moisturize and nourish. The lotion has semi-fluid cream texture that gets absorbed quickly without much residue, it moisturizes, helps getting rid of flaky skin and doesn't do much else.
Overall: A decent no-frill product to try if you happen to be in China. It's cheap, works well and (I think) worth the marked-up price sometime in some health food (doubling 3 dollars is still cheaper than Garnier) e-tailers (I have no experience with those so consult Google yourself and shop wisely).