Summer 2010 seems like a good season for the budget hunters, as there are quite a few very bright and interesting collections from the drugstore brands. Maybelline also has one of these eye catching posters out, named (Spice up your look with) Salsa Sun.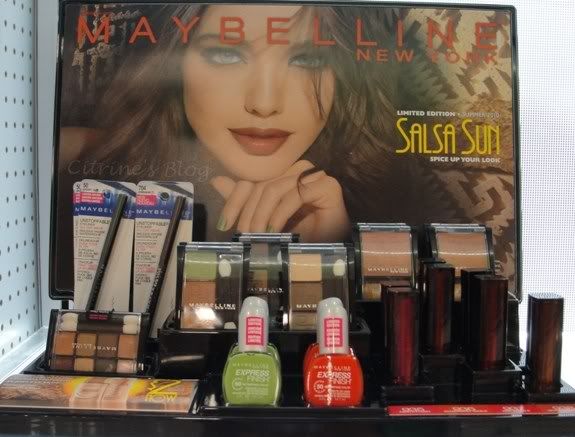 Maybelline Salsa Sun limited edition features several warm/tropical looking eyeshadow palettes, eyeliner pencils, two bronzer/blush, two nail color (pistachio green and bright and slightly neon coral red) and four Color Sensational lipsticks.
I have tried Maybelline eyeshadow, nail polish, Color Sensational lip stick and I pretty much hate them all so this particular poster is a safe skip for me. I have not yet tried their blush/bronzer but I hate the squeeky compact that looks like it's going to break within a week once it's on my hands. Anyway, if you are a fan of any of those, feel free to give them a try, the most you are going to lose is just the lunch money for a single day...
Anyway, the Shine Sensational Lip Gloss (I haven't try this line but I have very little hope regarding the whole brand) seems rather interesting with bright red, deep plum shimmery half jelly (weird combo for summer?)and coral etc. Anyway, I might try them...probably not because I kind of want to buy all the lip gloss release from Revlon Daydreamer...