I have gotten a bunch of these L'Oreal Colour Juice when CVS was slashing the price because come on, they are only a dollar a piece (75% off with 3 dollars off 2 L'Oreal Products coupon from their official website)!
Tutti Frutti is a semi-opaque, half jelly half cream bright pink. It's bright enough to give a pop of color to the face but not too vibrant to be mistaken for fuchsia. I wore it the day I checked out MAC + Liberty of London in Saks and when I was in the Sephora (a few steps away from Saks),looking at lipstick/filling up my swatch fist, the associate looked at me and went : "This is YOUR color!"
By the way, I only wore two cosmetic items (the other one is China Glaze Nail Polish in Cherish ) that day and I got compliments on both of them! Speaking of vanity efficiency...Ok, let's get back to topic.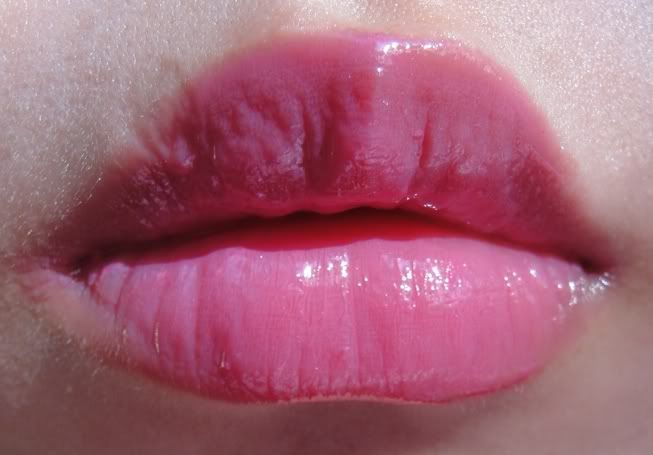 Like the other cream L'Oreal Colour Juice lip gloss (the shimmery ones' texture are not as user friendly) I have tried, this shade has a thick consistency (compared to Lancome Juicy Tubes) that takes a little while to spread and it would probably look horrible when I have a bad lips.
Overall, this is another "Love-is-conditional" product I got: I love love it when it's a dollar a piece (I can deal with 2 bucks as well) but I am not sure if I want to pay more...