Once again, I have succumbed to the limited-edition power...It's a good thing that I only had to skip one chicken sandwich for this junk.
Maybelline Minty Nail color is from the spring 2010 Sweet Thing (aka, Knocking-off-MAC-like-it's-nobodies-business) Collection and is a pastel mint green that washes me out and look funny.I guess it's not really Maybelline's fault (since they copied it straight from MAC) as I was never a fan of pastel: When I wear color, want it rich and bold!
First off (not complaining about the color), the formula of this Maybelline sucks (as usual), the first layer is extremely streaky and chalky (as I can literally see the condensation inside the liquid on my nail)and the second one is not much better at it get on like a gunk of glue. The brush isn't helping either, as Maybelline try to do that OPI double brush thing with this applicator, which only made this polish more of a pain in @$$ to apply.
Luckily, if you get a hang of it (apply a big glob then wait for it to dry), it will eventually settle to a smooth finish (it takes a lot more than 50 seconds to dry though) with a slight shine. I would say I am alright with the color as it's not the most unflaterring green I have tried.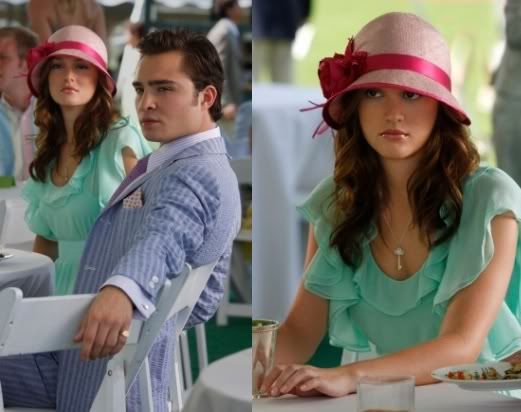 On the bright side, minty reminds me of the dress Blair wore in that equestrian event though(I doubt I would ever wear that color, pastel green makes my skin look like pork)...