L'Oreal
Skin Expertise Go 360 Clean Deep Exfoliating Scrub with
Scrublet
(a mouthful, as always) is one of the fairly new product from the line for spring 2010. The whole hype about this cleanser isn't really the cleanser itself, instead, people are raving about the little scrubbing pad coming along.
I picked one up (just for fun) a while ago since it was pretty cheap in my grocery store. There are four different type of this
L'Oreal
go 360: a green gel cleanser, a pink, a blue and this one in orange, which is an
exfoliating
cleansing gel.
Before I start, what in the world is "daily pore by pore cleansing"?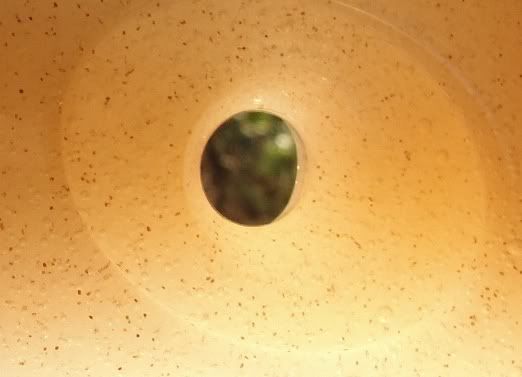 As for the cleanser itself, the texture is extremely loose and runny, as you can see the bubbles and the transparency/viscosity just by looking. Every time I need a big globs (3 quarters) to feel like I have enough product to work with and as a result of that, I have been using this once a day during shower for a whole week and it's already half gone.
The cleanser itself feels alright (despite the runny part)when used alone, nothing too harsh or irritating. The scent is rather pleasant as well,as it reminds me some sort of melon. I said it's alright in a sense that you can get this kind of cleansing effect with just about everything.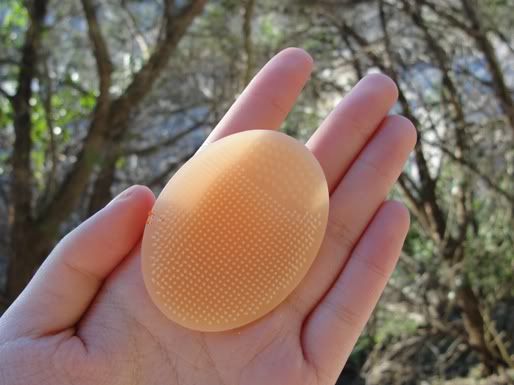 Of course, the icing on the cake is indeed the
scrublet
itself. The half-palm sized scrub pad is made of rubber and has a little handle for you to secure with fingers. There are many soft and little tentacles on the surface, which is how it cleanse the pore.
I am not positive how it works as I am not the person who keep a microscope with me when I wash my face, but I am thinking that when you exert pressure of the pad as a whole, the little guys just push your skin and squeeze out the white/blackheads like an army of pimple needle or your dirty hands(whichever you normally use).
Overall, this
L'Oreal
scrublet
is quite nifty and a great deal for 3 dollars (that's how much I paid), as you can use it with other cleanser/scrub of yours (I have to mention that it works better with normal foaming cleaners as the the scrubbing particles tend to sink inside the tentacles and become less exfoliating). Just make sure you didn't buy multiple backup before trying it out, since the
scrubbing
pad is all you need (the cleanser more like a borderline useless gift with purchase).
P.S. Yesterday (02/22/2010) was the bicentennial of my favorite composer Chopin and the second anniversary of my blog...I know you guys don't give a damn about classical music and I have no useless leftover-I-tried-once-but-didn't-like to giveaway (that what many people do, no?) nor the patience to sort of the "10 Best Post of the year" (I think my posts are of very high quality, in my own personal standard)...I just went ahead and gave myself a blogger break and had some fish & chips (the cowboy state style,
ewwwwww
).
P.P.S. I recently got a comment telling me to "write in proper English and stop complaining", thanks girl (I am guessing you just need to chill/grow up) for reminding me that I haven't done a PMS post for a long while, I am heading right to that!