Another ancient post (I think I got this last...September, October of 2009) that I forgot to finishing writing. Laura Geller is a sort-of high end brand (I say sort of because they are currently 30% in
Sephora
.com and I saw the brand on those cheesy TV show, and real high end brand like Chanel or
YSL
never go for that kind of stuff...) available at
Sephora
,
QVC
and their official website. I think the brand mainly make "
mineralized
"/ marbleized, baked dome shaped eyeshadow, blush, and cake eyeliner.
Laura Geller Baked Cake Eyeliner Key Lime and Deep Green Apple - Is pretty much a double sided cake liner in a dome shape. The "
mineralized
gimmick" is a tad unusual because cake eyeliners are meant to be used wet and dampening a pretty dome doesn't sound all that cool. Anyway, the pot does look kind of cute and I don't love it enough to use it that carefully so the shape isn't really an issue.
A the inner part of the lid, there is a small, half circle shaped mirror. The size, angle in which the lid opens and position of the mirror are a bit awkward that it's not
very handy
using it while applying the eyeliner. (
Nars
, in the other hand, is much more user friendly.)
Since it's a eyeliner duo- there are two shades (duh...) :
Key Lime
, a fern/olive green (that looks like a less olive version of
Stila
Jade smudge pot or a less brown version of
Nars
Fuji) and
Deep Green Apple
- A blackened green that reminds me of the deepest shade from
Stila
perfectly sage palette as well as
Nars
Night Porter.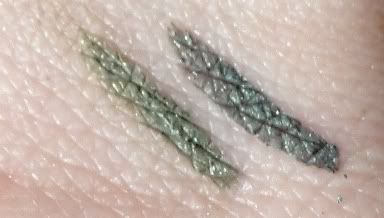 With a little bit of water,(I run the brush under faucet and put the dampened brush on the pan) both shade apply well, I woud say they are much easier to use compared to waxy pencils, thick liquid /gel-liner. Even they are considered dampened powder, the two sides are both very saturated in color. Two things I like a lot about this Laura Geller line would be the malleability (after they dry, they don't cake or smudge-iff you use them damp in the first place) and staying power, which is similar to that of Nars and a lot better than Stila.
My only complain about this duo is that it doesn't work too well (as an eyeliner) when it's dry, as the tiny pigments don't join together into a fine yet smooth line...It's not really a complain, I think I was expecting too much from it. (I am a bit spoiled by the vertisility of Nars eyeshadow.)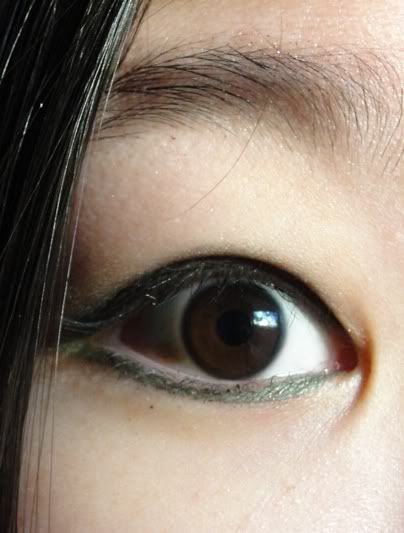 A simple look with the Laura Geller duo. Deep green apple on top lid, key lime at the bottom. (Yes, it's a bit lame that I only know two ways of applying eyemakeup/shadow, use them as eyeliner or allover wash.)