It's highly unlikely that you will care, but the full name of the dollar-a-piece ELF lip gloss is actually ELF Super Glossy Lip Shine SPF 15. I picked this up at my grocery store more than a month ago for no reason (the real reason is that I like to try out glosses of all kind so I can bash them if they are boring or mediocre). To avoid eyesore purchase, I skipped all the shimmery ones (drugstore shimmer usually mean full-on frost for me) and chose the most boring of the bunch: A brownish rosy shade called Malt Shake.
Malt Shake is, as I mentioned, brownish rosy shade with a smooth, fluid and balmy texture. The pigmentation of this particular elf lip gloss is alright as it gives a noticeable amount of color without being too thick or heavy, I would say this amount of color payoff is more than enough as I can't say that I am a fan of brown lips.
Texture wise, the gloss feel fluid and it's fairly moisturizing, the watery/loose/balm nature of the gloss also means that it settles to a very smooth finish right away. My only complain of this gloss would be it actually numbs/gives a weird, unpleasant sensation to my lips, which only happens with certain Sally Hansen glosses in the past.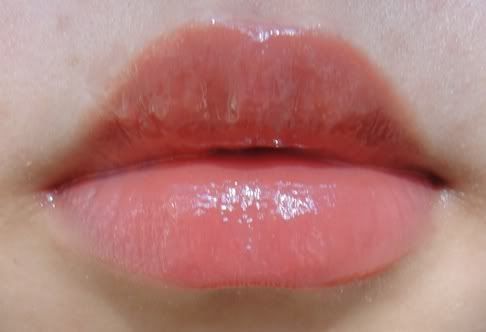 The swatch might give you an impression that Elf Malt Shake is peachy or orange, it's not. The brown shade is around the same intensity of my lip color but warmer so it shows up as a my-lip-but-better tint. I found the brown in the gloss quite wearable, as it tones down the purple (my skin tone will turn normal when it gets warmer) without making my mouth looking like two pieces of poop (like some Revlon lipstick...).
Overall, it's a nice gloss but not quite my favorites (neutral is never my thing, as my own-way of neutral is just not bothering with any makeup.) and not interesting enough to make me want more, even it's a dollar.