Another toy I bought during the year-end drugstore clearance sale. I am a bit surprised that I don't actually hate the lipstick (consider drugstore lipstick with shimmer usually translates into disaster).
Covergirl True Shine (It's name TruShine but I will call it True Shine anyway) Lipstick in Coral Shine was released...I actually have no idea when it was released since I am not really a big fan of Covergirl and never paid attention to the line up.
Anyway, the lipstick comes with a very light and feeble metallic tube that's made of plastic (the only drugstore brand lipstick I have tried that's more wimpy than this would be Wet n Wild silk finish, which costs a dollar at the most) but I guess the cover has nothing to do with the content in this case: While the packaging is a lot shabbier than the new Revlon, the lip color is a lot less hideous and so much more wearable for spring time.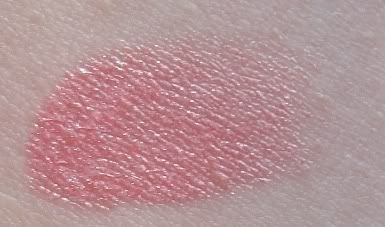 The True Shine lipstick has a thin/light texture (compared to all the drugstore lipsticks I have tried) that feel somewhat emollient (but not replenishing like some of the high end lipsticks) and gives a medium coverage, shimmery and shiny finish that's not too thick or frosty/tacky.
The stick/bullet itself it's not too hard/dry (that it's hard to get some color) nor squashy (that it would gives you way more products than you need), one swipe is enough for a noticeable amount of shimmery color and two swipe will give me a ideal coverage.
Even there is a mouthful of shimmer, the tiny particles do varies (a tad) in sizes so if gives a dimensional finish instead of flat-full-on-frosty finish, I don't think my lips love it all that much by itself though so...
To smooth things up a bit, I layered a clear gloss (a random duo-side one from bath and body works, as it's the only 100% clear gloss I have)on top of the lipstick. I think it's pretty...
Overall, it's a nice lipstick for around a dollar (it was 50% off and I had a 2-dollar off coupon with me), I am not sure if I want to spend more on this...
P.S. I am totally in a coral kick right now, who is with me?