Another Anna Sui review (I kind of went overboard with the hauling back in winter), let's hope you guys don't get sick of the brand because of the over exposure.
Anna Sui Super Mascara
DX
Waterproof, a range of waterproof and color mascara, was first released as a part of summer collection (back in 2008?) and available in 3 different colors at the time. Later on, this particular mascara like was added to the permanent line and more colors are being added.
Colored mascara has been around for quite a while (especially in those yearly Halloween releases)but I guess it became quite popular back in fall 2009, even the aunt brand
Estee
Lauder has released a few of those. Anna Sui was being quite ahead of the game when it comes to this particular trend but I don't think people really bother with colorful mascara anyway (since it takes extra work coordinating eyeshadow with mascara).
There are seven shades available in the Super Mascara
DX
line, for any sensible human who just want a pop of color on their eyes, you would go for colors like the purple, brown of teal...Since I was nut, I went for the in 400, Anna's favorite shade...when it comes to lipstick.
As you can see, the mascara is indeed bloody red (artery blood to be specific) and has that kind of semi liquid semi solid (colloid) texture. I personal would like the texture to be a little thinner but since it's a colored mascara (the color wouldn't stick or show if the texture is too thin)and this formula isn't very difficult to work with, I can work with it.
There is no fiber (that I am aware of) in the mascara but the semi thick texture does extend to the end well and give a bit of length and a tad bit of volume. There is no clump or chipping and the mascara last well through out the day and after one night sleep (I didn't wear foundation or other base makeup when it sleep so it's not that much of a damage to my skin) so I am fairly happy with the performance even the thick (not pasty) formula does require some combing afterward.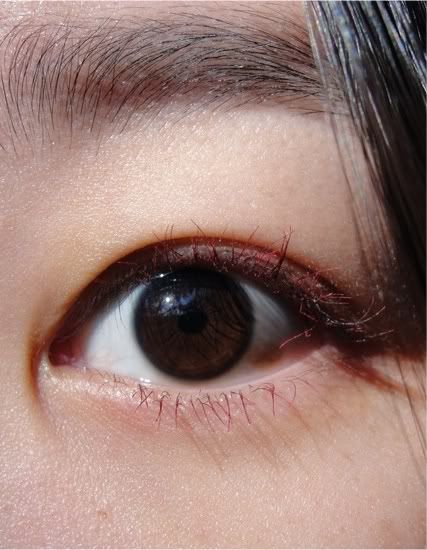 This is how Anna Sui super
DX
works on me. I have pin straight lashes (that poke down and refuse to hold a curl) so having this kind of noticeable effect was actually kind of impressive. The red isn't all that scary as I have worn the mascara out for a few time already (including to MAC counter and
Sephora
) and nobody (dared to) mention anything about it...