I didn't expect too much from the Anna Sui fall 2010 ready- to-wear collection since her style usually doesn't change that much from season to season but I saw some cute outfits and feel like sharing them (Pictures are from Style.com and nytime.com) .
Flappers with zombie eyes and shiny tights. I have a feeling that those stocking would only look good on bony girls...I just can't magine it on girls with slightly more toned/muscular or meatier legs...
Again, the stocking is my favorite part of the outfit and probably the only thing I can afford.
Two best-dressed guests (in my opinion) of the Anna Sui fashion show: Peaches Honeyblossom Michelle Charlotte Angel Vanessa Geldof (!?) with is-that-her-hair-or-a-hat and a woman who reminds me of Kelly Rutherford (Serena's mom). The Korean girl band Wonder Girl was also at the show, all wearing clothes from the spring 2010 Anna Sui. I didn't find them looking all that "fierce" so I am not bothering with pictures.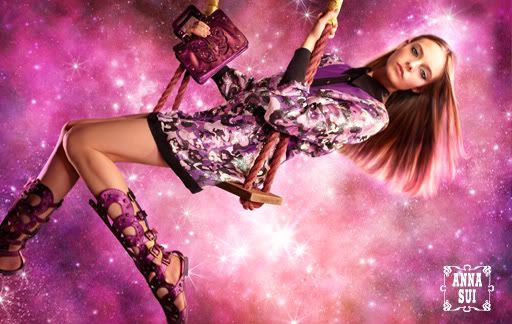 Anyway, here is a girl who actually look nice with the spring 2010 dress, Dutch model Nimue Smit (Thank God they stopped using Agyness Deyn, that girl is manly...) as the new poster girl. I am not feeling for the outfit but those butterfly-gladiator sandals are so cute!