Because lip gloss addiction is always better than drug addiction...Maybe...
Yes to Carrot C Me Shine Lip Gloss are one of the few organic lip products (like
Physician's formula
lip color
Sally Hansen
and
Burt's Bees
) available in drugstore. They retails for around 6 dollars a piece but can be found cheaper in a set. I am never a fan of organic products as they usually perform poorly compared to the "chemical" ones but since I like lip gloss with squeegee tube packaging, I decided to give those a try.
The C me shine lip gloss, like the Burt's Bee one, is formulated with caster oil and bee wax as the natural glossing agents. Unlike Burt's Bees formula, this one is 95% organic while Burt's Bees is 100% "natural". I don't really get the wording since an organic compound can certainly be synthesized and natural doesn't really mean "good for you." Anyway, the
overall
composition of this gloss is similar to Burt's Bees but it feels a lot lighter (less gunky) on the lips and it's also very easy to squeeze out even the temperature is freezing. I think one
contributing
factor for the lightness is the peppermint oil in it, which gives a cooling sensation.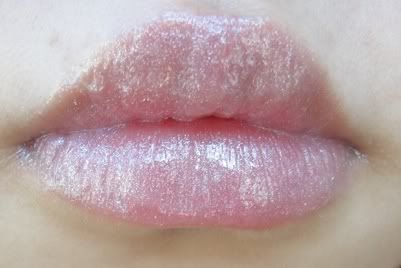 Rose Bliss is a baby pink (that has a strong blue undertone) and tons of frost. I am glad the frosty isn't
obnoxious
and the finish of the gloss still remain watery and shiny. The staying power is decent that it doesn't get absorbed within 30 minutes or slip right off.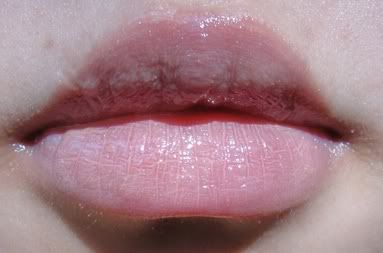 Playful nude is a muddy peachy nude with shimmer- This gloss doesn't seem to spread as nicely as rosy bliss (probably because of the shimmer) but overall the texture is not difficult to work with. The shimmers all happen to settle down on my lip lines and the shiny finish emphasizes the line...Not very flattering.
Overall I am alright with these glosses (they are nothing amazing but doesn't irritate me like a couple of Revlon lipsticks) while they don't add any instant glam to the look, the formula makes them perfect candidate as a soothing lip balm when the weather is cold and dry. I think it makes my lip soft when used as an overnight treatment.