MAC lustreglass in Opal is my first mac product I have ever gotten. It's a shimmering blue based lilac gloss with a tacky texture and glossy finish.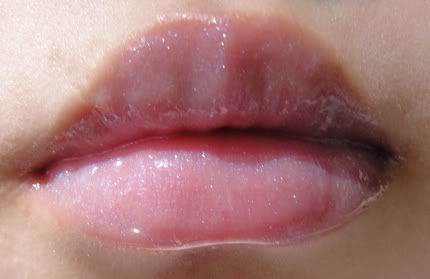 I didn't like the color (well I like it because it's wacky) too much as it picks up all of the ashy part of the skintone and turns me into a zombie
But if you look closely, the lilac shimmer is really pretty and the glossy finish doesn't look too bad. (And it actually looks really nice when it's layered with a fuchsia lipstick, like what I did with
lancome satin fuchsia
)
It probably a bad choice for winter though, the color simply makes me look dead unless I am directly facing sun. Anyway, since I am almost running out of Opal (I have no ideal why do I use up wacky glosses so quickly)I think I need to get another purple one...Too bad the Lilyland lip gelee was more grandma mauve than purple...