In case you wonder why did I get two
Maybelline
when I said I have sworn off their products. I was at
ULTA
, having 6 dollars worth of product in my basket, I needed some filler to take advantage of the buy 10 dollars get 3.5 dollars off coupon. These mascara were half off plus buy one get one free (so they were 2 for 4 bucks). At the end, I reckon it's worth it to pay 50 cents to just try these out. If all things fails, I could always use the white primer on other mascara I have.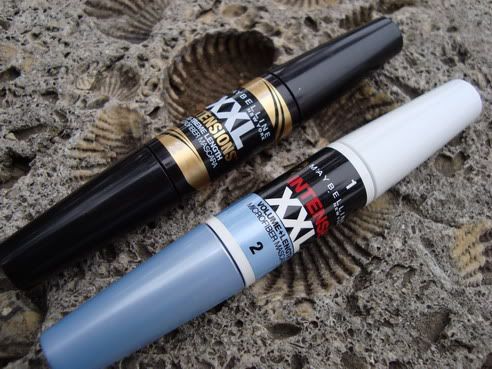 Maybelline
Intense XXL mascara was released 4-5 years ago and each year they would have a new version added to the XXL family. Just like other
Maybelline
mascaras that are released on a seasonal basis, these are just as bad/mediocre as the other. The whole point of
Maybelline
releasing
mascara
with new package is to make people believe that (unlike the 239 existing sub-line) this time it would really make a difference...Does it? Of course not.
The two mascara both have a primer end and a mascara end. I like mascara with primer as they lengthens well in general. The
maybelline
primer, a white paste that clings on lashes, is not overly gooey or thin but it requires a comb to prevent glued up lashes and minor clumps.
The formula of the two mascara are quite similar but the brushes varies: for the original XXL with white and blue tube, the wand looks like a test tube brush (or infinite macro chromosome,
arranged
radially, strung by
barbecue
stick at the
centromeres
). For the XXL extension, the bristles are
arranged
like a helix.
The mascara wands for the two has the same type of bristle. Both of the mascara tint the lashes very slightly (Extension works slightly better) and looks rather clean if I am not too heavy-handed but if I layer them on with the primer (in order to cover up the white, I need a few more swipes) there is a good deal of chipping, flaking and it seems that
Maybelline
mascara has a tendency to smudge like crazy on me...This is definitely one of those.
Anyway, the primer end (of the black tube one) works pretty well with other mascara, when I used it with
Physician's Formula Plump Potion
, the combo gives me monster length. (Still a bit of flaking but I could deal with it.)