For the past few weeks (right after my camera broke) it seems that all the drugstore lines are releasing new products for spring. Sally Hansen has a new LE set of insta dry polishes (a cream light teal was so pretty!) Physician's formula has new eyeshadow, Maybelline got new mascaras and eyeshadow quad, Neutrogena has new lip glosses...I might take some pictures for those when I have a camera but at the mean time, you will deal with some lousy cell phone picture (Don't worry, not for long...as I am working toward my replacement camera.)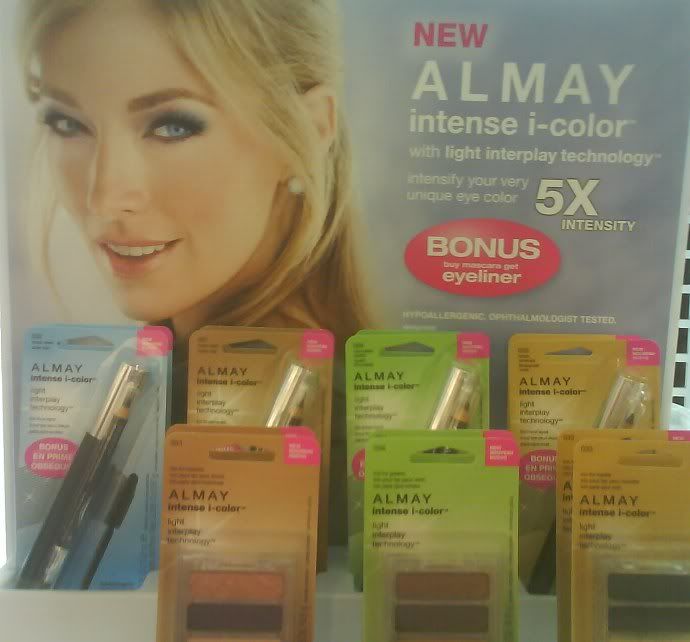 New Almay Intense i-Color mascara, eyeshadow and eyeliner. I remember the old i-color mascara had a plastic comb that created some serious clumping, the new mascara wand might make a big difference. The eyeshadow colors seem to be more intense and intersting than the old ones.
L'Oreal lash boosting lash serum and mascara. The products (I like dark blue!), especially the lash serum seems quite interesting. But if you use grapeseed oil mixed with vaseline (as a base so the oil doesn't run in your eyes) as eye cream/mask you would probably getting better result, since the are control lash growth are the folicles on skin, not lashes themselves.
New L'Oreal HIP eyeshadow and eyeliner (I have yet to try the old ones, I seriously don't want to bother) some colors are really pretty and glittery, but I think I would prefer them in the pan than on my eyes.