Who is she?
Li Xinru
is a Chinese actresses famous (or infamous?) for her interpretation of the Chinese version of Ugly Betty. She is actually pretty cute, no?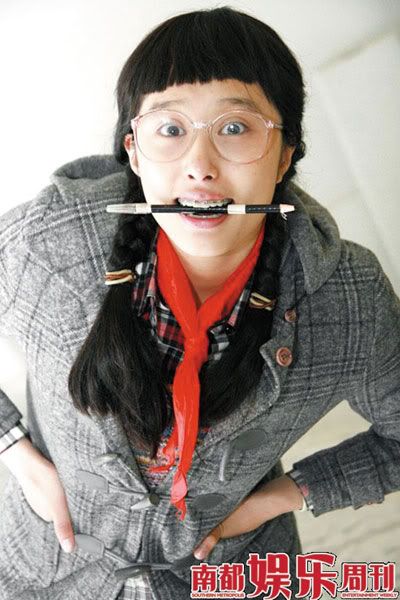 Well, Hunan Satelite Channel managed to make her look like this in their show though. (For those people who are interested in the Chinese version of Ugly Betty. Don't bother...the thing is full of ad, like they camera literally focused on a bottle of Dove Shampoo for more than 5 seconds.)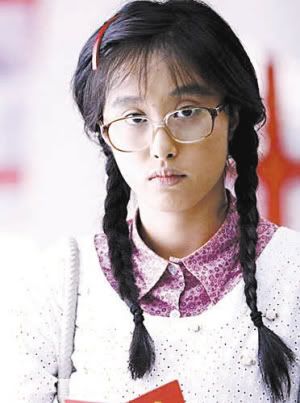 Just when you think it can't get worse...Anyway, what kind of interested me wasn't her performance in the show (I barely survived 10 minutes of it). Before she got famous, Li Xinru apparently participated in several reality shows in audition format from what I have seen, she looked quite different in every picture.
This is one taken from her official profile picture when as she was auditioning for The Dream of Red Chambers and can you that her eyes looks quite different
(OK, I know I am behaving like one of those bitches who say "She got plastic surgery! " but wait...)
while her nose, lips, face shape and ears still look unchanged.
While the deep cut crease can look a bit unnatural in that second picture, it looks quite beautiful when she opens her eyes completely. (Or this is just a very good shot?). Anyway, she admitted herself that she is not against plastic surgery to the media anyway, she just didn't say "I had my eye lid cut!" bluntly.
It's a bit pointless to say whether a actress's beauty is fake or not and digging out before and after pictures since I personally think as long as they turn out beautiful, I would enjoy watching them more. Well, the thing is that,
She went to an casting when her eyes are still puffy/while she was recovering from the surgery, had many pictures taken. Is it me or this is a bit funny?
For the work she has done, I think in some shots she looks very good (well, she does have pretty face shape and nose to start with) while in others her eyes look a bit artificial. Anyway, there is nothing wrong with wanting to have bigger and brighter eyes but I think I probably like the tape method better.
(And wow, natural beauty are so hard to find nowadays...)