Am I the only one who is cheap enough to only buy Halloween Collection after Halloween?
Every fall, the cheap (but good) drugstore brand Wet n Wild takes on its alternate identity and became Fantasy Maker, I don't really see the point (beside that customer can't use those Wet n Wild discount on this "brand".) why they are doing it but since I do like many Wet n Wild stuff, I will just get one to play with.
Anyway, nobody wants to pay 3 dollars on a toy when you can get it at 1.50, right? Anyway, since most of those glitter eyeliners are in festive colors like red, green and gold, Wet n Wild might as well put them in the Holiday collection and call them "jingle bell" eyeliners...
This particular shade is called "Darkness" I was a bit confused why they call it a glitter liner because the "glitter are actually fine enough to be called Shimmer (you know, glitter are supposed to be chunky...). It just looks like a shimmering gold liner to me (that would look great paired with deep purple!).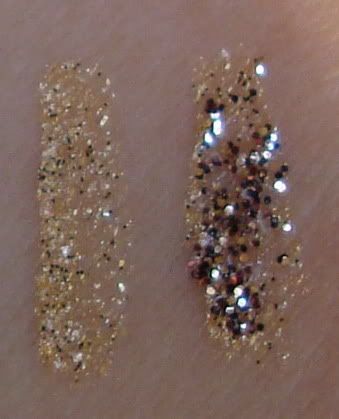 Darkness swatched on the left, on the right, the color is amp-ed up by Too Faced Stalkerazzi (big black/gold glitter in a clear base)
It turns out that, the "Darkness" they are talking about is the black glitter within. While the black glitter does make it more interesting. I wish the liner is more dazzling than this. (I mean, if you pare it with light pastel eye makeup, this can almost be a very neutral eyeliner that gives the tiniest bit of color impact. ). Since the color is a bit boring, I decided to layer it and see what I would get.
On top of Stila Cobalt Smudge Pot...Starry Night anybody?