The Halloween Collection are out today in my local grocery store, did I mention I live dangerously close to a big grocery store in a crazy good neighborhood? I literally go to but ice cream (or picking up nail polishes) at 11:30pm when I am bored.
Every September/October of the year, wet n wild will assume the name "Fantasy Maker" and come out something gaudy and cool. This time, it looks pretty much like the old stuff from last year. At least the coffin nail polish (
Scrangie has swatches up here
.) part and the black/red/blue lipstick part.
Body Glitter crayons. I wish they sell the false eyelashes she is wearing!
Black and white eyeliner pencils, old stock again!
Glitter eyeliner. I might get one of them once I figure out how much they are (my local grocery store cares a lot about how to display merchandise in a pretty way but they tend to forget putting on the price sticker...all the time.)
The most anticipating items from the collection are probably the false eyelashes (I need to find out how much they cost) , I have to say I am a tad bit dissapointed as they had those super cool feather one lash year.
The rhinestone is pretty cool though.
Another good part there are actually two pair of lashes in one set (as long as they are not 8 bucks) this sound like a good deal to me.
Glue on nail. Ewwww. I prefer nail polishes (although sometime the fume can knock me out for a few hours.) over thick plastic on my hands.
This Mistress of Darkness"Collection" look oddly familiar (beside the fact that the "Black Creme" nail polish have existed for quite a while...like for 10 years? )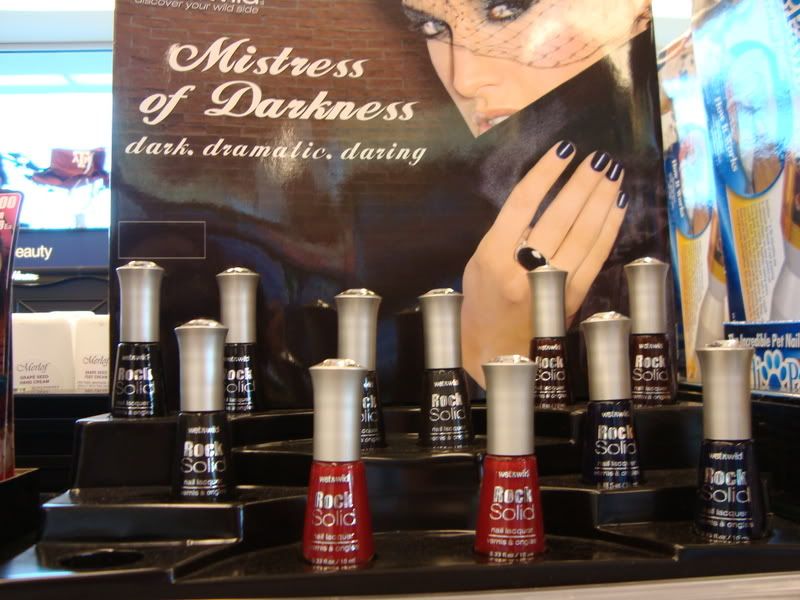 Recycling poster? Last year this Rock Solid nail polish actually looks really nice ( I was waiting for a BOGO sale to get these but they were gone before I knew it) , it was a collection of sinfully dark shades. This year Wet n Wild just gave it all up.
Here come the real gem of this collection, Monster Ball nail polish.
Don't they look like candies? The creamy green (with pretty soft green shimmer) is the best green drugstore polishes I have seen so far. The rest looks pretty nice as well, like a less gaudy version of
Milani Welcome Back Color.
These nail polish is also a bit of a rip off despite the fact that they are only 2 buck a piece.
There is 4.6ml of product in each bottle, for your reference, that's 1/4 that of a standard OPI/China Glaze bottle...Even much smaller than the
already tiny Chrome nail lacquer
. I might still get one though, the green color is quite pretty, let's hope I can finish painting both hands with that bottle.
Here is a random picture of the day taken while I was in the grocery store.
Michael Angelo's
artistic chicken!
By the way, have you guys done anything special today ? (09/09/09) One of my classes was like "YAY!" for a second at 9:09:09 am...Yes we are so mature.