Nowadays the show business is bombarded with silicone implant, caked on foundation, botox, liposuction... What do you think about these little plastic tape on Asian people's eyelid?
I do think it makes a nice difference with that bit of lift and I personally am not bothered by that. It's a lot better than surgery, implants are stuff like that.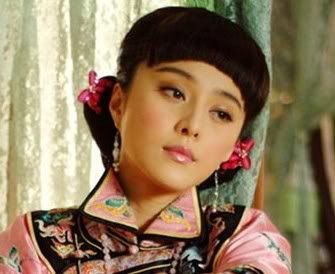 Look at the two reflective strips on Chinese actress Fan Bing Bing's eyelids? (They are there to support the eyelid to give her a deeper crease as she already got them her own.)
Many Chinese people use it to either create or adjust their eyelids (if they are too droopy) but I don't get why some white people (who are full of themselves) just assume that the Asian girls who uses tape want to look
white
.
Some white guys think that the more slanted a Asian girls eyes are, they prettier...We (Chinese people, fobs etc.) just call them...(jerk comment removed)
Even the beautiful Brigitte Lin used a little bit help from the tape as well. (I mean, of course these are not natural, but it's not drastic either and I still think that the two actresses are naturally good-looking.)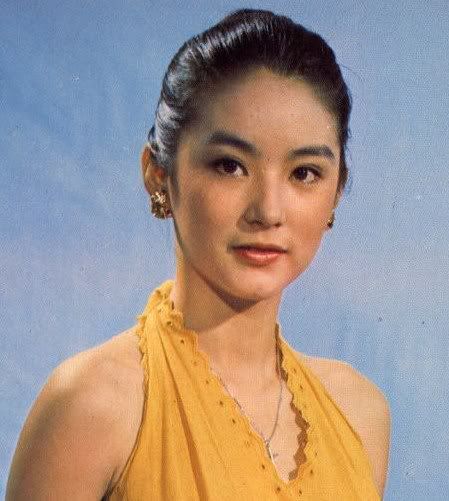 I admit I wrote all the crap above just so that I could post more pictures I found.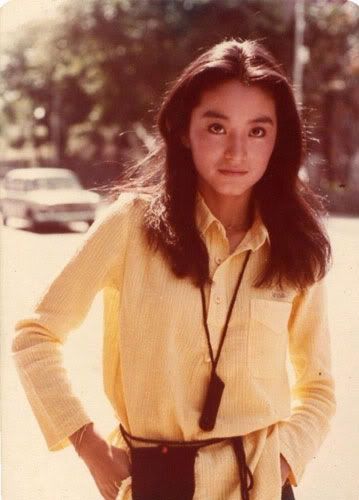 I wish my blunt cut look as good as hers.
Cropped out the random dude on the right (who looked like a chimpanzee) .
The makeup and necklace are a bit of overkill, but I think she can pull off everything.
I like her with minimal makeup the best.
And now I have some free time to burn, I managed to watch a few episode of Fan Bing Bing's (she is a producer!) historic drama called Rouge Snow (I like my own name "Blushing Snow" though.) Thanks god it's not a chick flick!
And I love that Fan Bing Bing pay such an attention to the costume. (for the whole cast, not just herself) She modeled those pretty cloth well though.
I persoanlly think that She is one of the few very good-looking celecbirty in China, although she doesn't look like a good friend material. (I mean, why would I want to make friend with her anyway?)
Anyway, how many people can pull off bright yellow like this?
Beside the earrings and hair accessories (which looks a bit cheap) I love this whole ensemble!
I love the teal dress, but that fake pearl necklace just kind of ruined it( when you see the close up) ...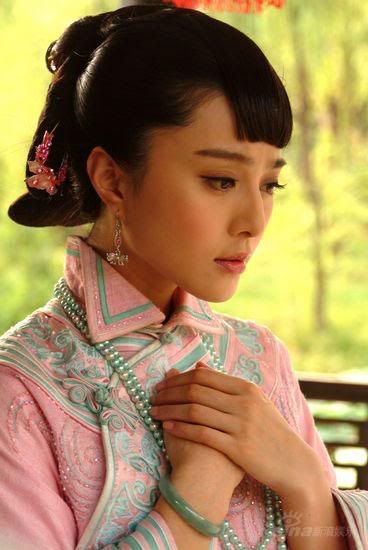 The hairpin/earrings and necklace look like you can get the whole lot for under 10 bucks. Maybe they overspent on the outfits so they didn't have the budget for nice matching jewelry.
I like the jade bangle bracelet though. Jade is kind of the diamond equivalent in China when girls get married (back in the old days) I think it has so much more characters than diamond (Hello, carbon?) and so much prettier. (Come on, it's green!)
She finally started to use actual jewelry! (I mean, they are just silver, but they look so much better than the others ones from dollar store.) I wonder what lipsticks she is wearing...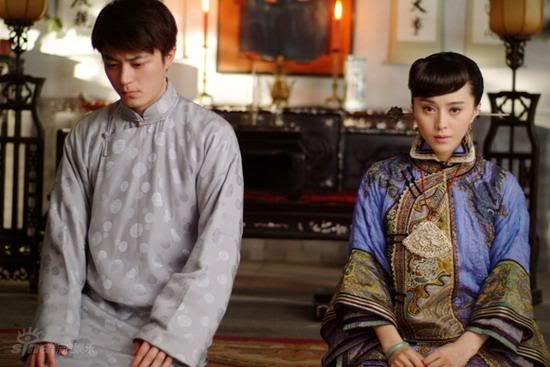 Rouge Snow is about women for the most part, but the two main actors are not a pain to watch though. (I never survived those Asian drama with not-even-good-looking cast plus stupid plot. Having those old fart playing high school student make me barf too...)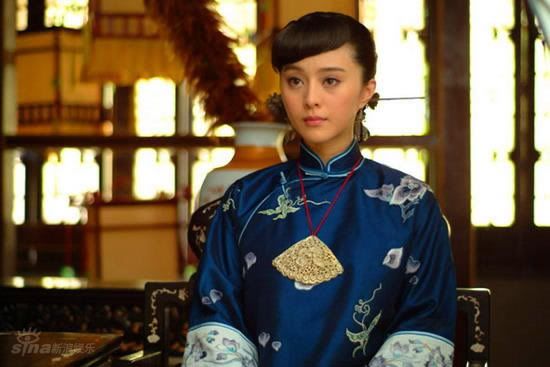 I always think that fashion is running backward (in China) I mean, those old fashioned stuff are so much more intricate than ...bikinis?
Anyway, do
take a look
if you understand Chinese or just want to take a peak at how pretty the outfits are.