Yeah, I was having a little fun with all the plumping products out there. I always liked Sally Hansen lip products (see now I "like" it instead of love it?) Today it would be a gentle plumping lip treatment in Playful!
Summer is sure enough playful enough to wear coral glosses!
The tube looks a bit weird shaped like a American football or a flat olive...I don't care about sport that much (although I could use a good workout plan) so it looks a bit weird to me.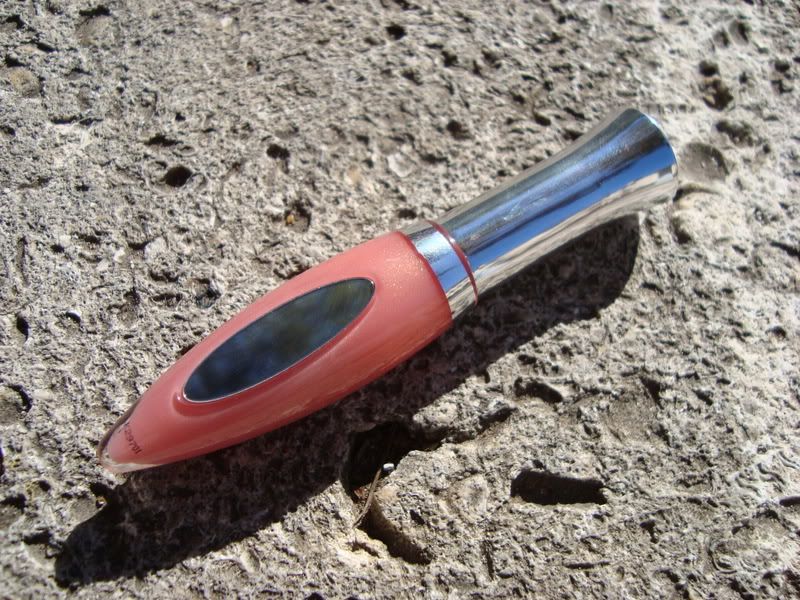 On the back there is a tiny mirror that's is perfect for applying lip gloss (although I think it's kind of small for me that all I can see is my lips and a tad bit of peripheral areas...I would be nice if I can see my chin with this.) The mirror is along the contour of the tube, which means it's curved and every time I look into it I get a headache.What a stupid design...
The lip gloss does plump a tad bit like filling up the lip lines without making them look too inflated. It's gentle enough that it doesn't hurt but after using this much Sally Hansen glosses, all of them started to numb my lips.(So I guess it's time to quit?)
Sausage attacks again.
I was hoping to get a nice soft pinkish coral with golden shimmer from the gloss but as for the color, there is no color to it at all! It's just a while milky slightly opaque gloss that (maybe) tones down my red lips by 0.1%...It's No.4 on the
swatch fist
and it looks transparent on my hand and on my lips, it's clear!
I like clear gloss anyway so I have no complain...