I was wondering for a long while why haven't I ordered those cute shadow from NYX...I mean, the packaging isn't all that pretty but Wet n Wild doesn't look good either but I love the brand...Now I know, I actually bought some eyeshadow from NYX.
Back in August 2008, I saw some beauty bloggers keeping these little bottles of cute pigments in their storage boxes, they are pretty cheap, so why not give them a shot?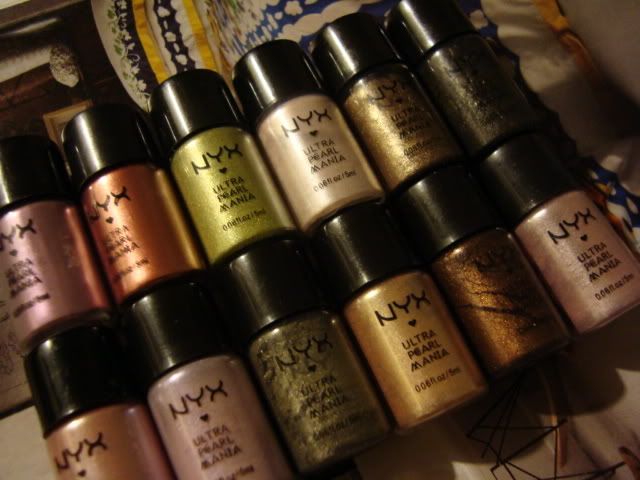 So I got 12 of these NYX Ultra Pearl mania Loose eyeshadow pigments...( I remember there are lime pearl, lilac pearl and black pearl...since they look the worst on me...)
I know they are receiving pretty good reviews and all that, but I totally regretted the purchase.
1.The little jar isn't all that convenient.
2. Some of the colors are sort of pretty but they turn muddy the moment I start blending it. (It's a pigment so I should use a mixing medium? ) and that doesn't happen with Wet n Wild Trio: It looks black in the pan, and still looks black on my face!
3. While the brown looks alright once blended out (they look champagne)the rest of the colors are
very tacky
...
Three reasons are enough for me to dislike a product...