I remember a while back there was a post about how
blue lip gloss makes your lip less red
and more see through...I love the idea of having a beautiful looking tube but it just didn't work the way I wanted: It did make my lip plump, more of a dead-from-drowning kind though. As long as the color shows, it will turn my skin gray...On the event that I am lucky enough that it doesn't show, it looks no difference to a normal clear gloss.
I decided to turn to green instead, since they look as delicious as candies!
I did got myself quite a few: Lancome Juicy Tube in Kiwi Slice, Mac Tendertone in Shush, DiorKiss in Granny Smith and Sally Hansen in Clear Shimmer.
I had no intention of using them all that often at the beginning, but later I found them doing what I expect the blue glosses to do: Toning down the red in my lips without covering up anything. Just take a look at the color wheel and you will see green being right opposite from red and doesn't Make Up Forever have a green primer to fight redness?
So far, I've only gotten two types of green glosses
First there is
the mid tone green
like Lancome Juicy Tube in Kiwi Slice (finished 70% and tossed since the tube was worn out...I kind of tossed the blue one right away because I couldn't stand the sweet scent.)
They simply balance the red and turn my lip a nice shade of pink.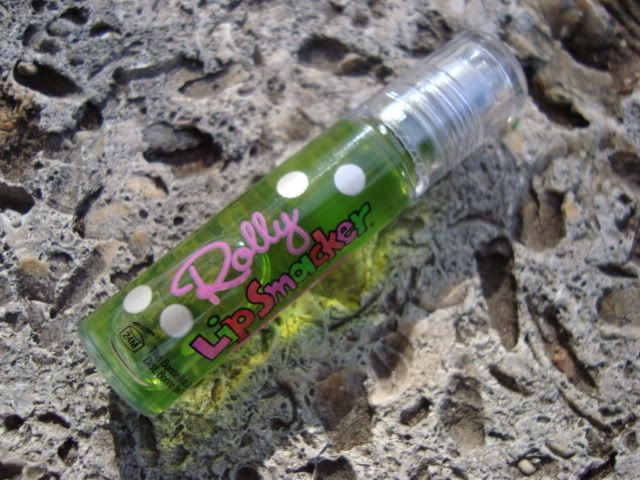 The rolly lip smacker is in this category as well, but the texture is too thin to make the effect noticeable. (It still smells yummy though.)
A more common category would be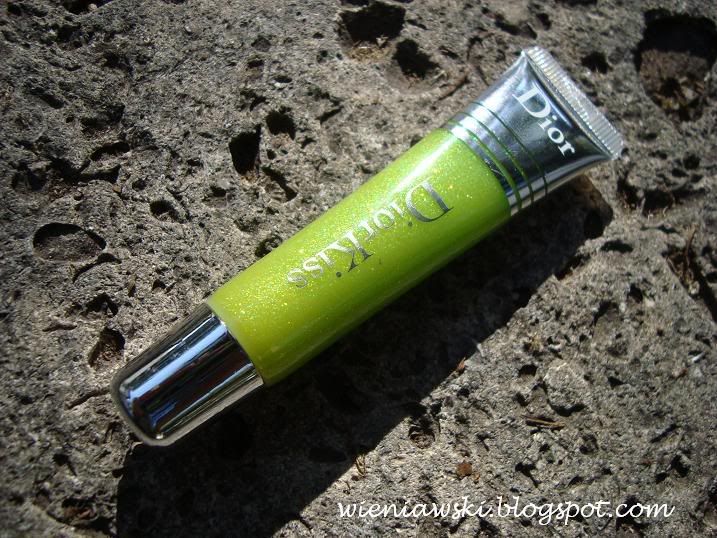 Golden Green
gloss like Sally Hansen Clear Shimmer, Tendertone Shush and this DiorKiss Gloss.
There is a good deal of yellow or gold in them that they not only make your lip pinker, but also warmer. pink plus yellow is peach.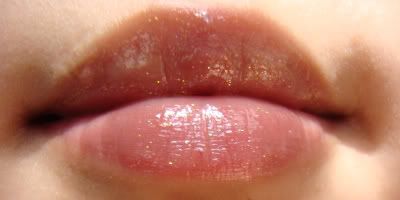 So golden green is a nice way to wear peachy gloss when you are not actually wearing anything peachy.
Green Gloss isn't as easy to spot as blue (Jemma Kidd, Cover Girl and Benefit all carry blue gloss) but you can find it as the accent pieces in a lot of limited edition:
Like the parfait shaped Consume me in
MAC Sugar Sweet
Collection
Look at that cutie ! (I am actually more interested in the cupcakes.) I wonder what the would be once the layers are all mixed up.
Then there is Guerlain's spring 09 collection.
Guerlain Kisskiss Gloss in Pomme du Desir
Every time I search for this on Google, it pops out "Do you mean l'
Homme du
Desir
?") looks like that sheer shimmering golden green that would make red lips peachy, the color is very similar to the MAC tendertone I have. See it for yourself in
this blog post
. I didn't like the baked sweet scent that much.
Anyway, this collection is so visually appealing! I want Natalia's ginger hair.(more like I want her whole face.)
Enough for spring, there is one coming up this summer!
Sonia Rykiel Summer Collection
also has a green gloss for the summer heat (Randomly, this looks a lot like the summer 2008 collection Sonia Kashuk had. And do you know that the 09 Rykiel collection is also called
Coral Reef
?)
Sonias think alike, I guess?
And there is even more if you take at trip at Sephora.com:
I always thought that it's a no brand brand, but it's actually called On 10. The Double mint has a cute color and the color (in real life) is a nice fruity green. Too bad thy don't have the fruity scent to match it.
The same brand, do you know that I bought the Anna Sui loose powder just for the pretty case...I feel like doing the same thing here. (If you want a chap stick like this, you can get a Blitex trio like this for 3 bucks.)
The 12 flash color palette by Makeup forever,
click here
for a review and swatches (as well as my retarded question at the bottom) . Anyway, I was told that you can use the color anywhere. (just don't use the silver and baby blue for lips) I wonder how that alien mucus green would look on a human's lips...
Philosophy Spicy Pear Cobbler Christmas Ornament...Looks golden green in picture but more green green in real life...But since I have that humongous tube of Dior...I doubt I need another shimmering "peach" gloss.
Beside those, I believe that Britney Spear (the brand, not the woman) has a double sided roller fragrance plus gaudy green glittery gloss that I would never buy no matter how cheap. Makeup For Ever has a deep shimmer free, sheer (I hope) potted green balm, NYX got some potted green balm as well as a green glittery gloss...Green gloss is everywhere if you have the eyes for it.