Drugstore lip glosses usually don't have a good coverage and color payoff, that 's why I like them, since I have pigmented lips to start with and all I need is a bit of shine. If you are like me, you might like this lip gloss from Revlon.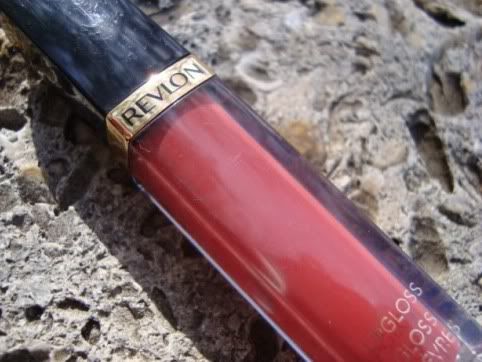 There is always a 3 dollars 0ff sale going at my local grocery store...it was difficult to resist when lip gloss (that doesn't look bad) only costs 3 dollars. I've a Super Lustrous lip gloss from Revlon before, which wasn't bad at all. So a few months ago, I grabbed another shade with a good review: Cherry in the glow. The color might look deep red in the tube but it turns out to be quite sheer, all it does is adding a touch of color and a bit of depth to my lips. It's nevertheless very natural and pretty despite the lack of color.
I know it might still look quite sheer in the picture, but that's after 3-4 layers and the color that I tried so hard to build faded quite quickly...Anyway, if you want just a tad bit of color this is a good choice. Just keep in mind that it's around 6 dollars for less than 10ml while it's quite easy to spot a brand new cherry colored 18ml juicy tube (in discount stores) for 8 bucks that lasts at least 4 hours with one application.
This thing tastes a tad bit disgusting too, not as bad as the Victoria's Secret Beauty Rush though
P.S. If you haven't, be sure to check out another popular shade from the Super Lustrous line,
Nude Lustre
from this line as well!