(I hate glittery lip gloss, and how in the world did I end up with this ? )
Stila IT gloss looks like glitters in a tube to me at first sight. (And second, third...) It's all because Beauty Crunch messed up my order by giving me a trio of IT gloss instead of lip glazes,being an lazy person, I was too lazy to return and wait...So they became a part of my huge lip gloss family. I wanted to post the three from the set all at once but since the lip swatches were taken at different times at different lighting, I might as well just break them apart for the heck of uniformity. (Edit: Screw it, I am adding the other two as well...)
This shade is called fetching, a very orange based coral...that looks so frosty on the tube. For a warm summer day at the beach, this is probably the best color to wear, along with a huge hibiscus on your hair!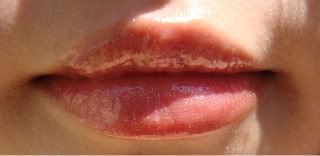 But guess what, the glitters actually melted into my lips. (As advertised on Stila's site!) But aware, this is sticky like the lip glazes and have a strong sweet scent that kinda throws me off...
The IT Gloss in Savvy, glittery caramel (again, I hate the smell)
I actually think that this color will wash people out if you lip color is not red enough.
Enchanting, a soft pink, just pink with silvery shimmers. ( If you wonder where are the words on the tube... Well...that's normally what happen to cosmetics I carry with me, the logo tend to get scratched off because most of the time I just toss them in my bag, along with all the books, keys and all other junks...Another victim was a juicy tube of mine, in Kiwi Slice)
This is the first on I tried out of the set, (at the time I took the picture, my skin had a crazy allergic reaction with a moisturizer and the rash became two large patches of tiny flakes...on each side of my face. Damn you Olay!) I don't like opaque pink gloss in general, less a lone the frosty ones, but I have to say since the color literally melt in, it actually looks pretty good.