It sure takes me forever before posting a review here( Hint hint, that means there are lots of goodies coming once I finish taking the picture and cropping them...) I got this lipstick I don't remember when...Well, within a year I guess. Anyway, for people who are familiar with my blog and preference, I am more of a minimalist when it comes to makeup, with a "professional" package, the brand image and all those bold and dramatic ad campaigns (which I enjoy looking at nevertheless) , MAC doesn't appeal to me as well as the fresh, sheer, feminine lines such at Stila, Benefit or Anna Sui. However, once a while I get tempted and lured out of my comfort zone.
This time was the lipstick in Shade called freckletone and its category is lustre.
The bullet shaped tube looks pretty cute but when it comes to lipstick packaging, Anna Sui won my heart like no other. (Note that I put a clear polish on the logo because, for some reasons, I always ending scratching the brand name off, in my backpack or just by my sweaty palms. It has already happened to my Stila It Gloss, my favorite shade of Juicy Tube, in Kiwi Slice and a lilac gloss form MAC.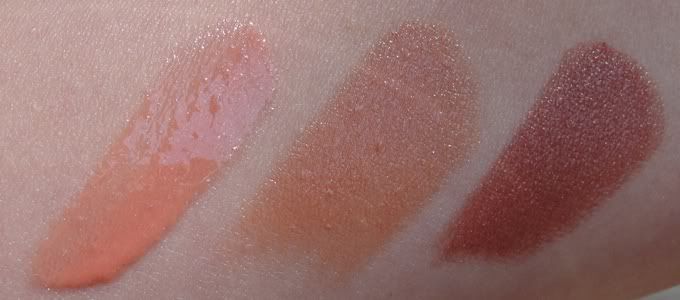 NYX smokey look, Mac Freckletone and Sally Hansen Seashell Nude
As I mentioned, the color pay off for Mac Freckletone Lipstick is very good and so is the coverage. When I say the coverage is good I mean that it masks off my natural lip color instead of blend in my lips and tone the color down. The texture is creamy and glide very easily that it actually slide right off (doesn't go on) if I am wearing a lip balm beforehand.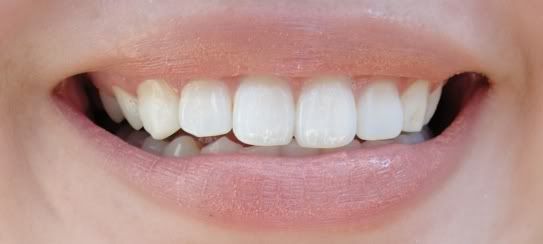 The shade freckletone is a gorgeous peachy nude that would look very good with a smoky eyes, which means that I don't use it that often at all. I have no luck creating a smoky eyes (or any dark makeup) nor I actually have the chance of wearing those kinds of makeup. Anyway, 14 dollars a piece is not a bad deal for a pretty lip color like this.Plus who would want to miss the good stuff if the shade is unique (one of the main reasons I go for more expensive lip product beside cute packaging) ?