I've almost stopped looking for blushers after find out about the Cherry Crush: It was the perfect item for me, natural, pretty packaging (cleaning the brush is a little bit of hassle, but I can deal with it) and has a pleasant real fruit scent...But then there is the major drawback: Unit price...a 28 dollar Tarte cheek stain has 1oz of product (the old one has 1.7oz, then they probably realized that it will take a good 3 years of daily use before a person can finish it off ) , Stila stain, only 4 dollars cheaper, has less than one tenth of the product...
So I turned to another best seller from the line, the convertible color lip and cheek cream, this one is in peony. (hint: I got another one later...)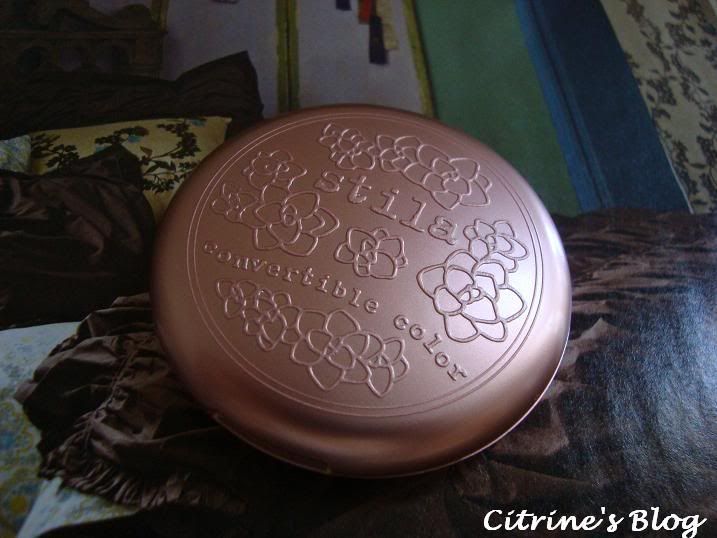 First, what a pretty compact!
The compact is not actually that heavy since it's made of plastic with metallic coating, and the coating is pretty tough that it will not be scratched off easily, (unlike Anna Sui products with golden packaging, they look pretty cute if I leave it alone, but the concealer jar I have now looks extremely cheap when the gold foil fell off, revealing the white plastic...eww ...no wonder they discontinued it.)
Actually I wouldn't mind if it's a little scratched since I do like the content itself.
Peony shows up as a dusty pink (or a nudy pink) on my face, it's almost the the exact color I see on those 5 year old girls cheeks which means, the color is very natural as opposed to an obviously "healthy face" given by the cherry crush.
As most other Stila product, the color pay-off is amazing in the convertible color, a very tiny dot is enough to get a glow without adding too much opacity (compare to many other cream blush) so I can happily use it on my bare face.
A note on the price, the cost convertible color is the same as the cherry crush, but there are actually more product in the compact and the cream offer a higher color pay-off so I guess I will stick with this when my cherry crush run out.
P.S. The Texture of the cream is fine enough to be used as a lip color, but since I don't really use lipstick anyway...so the double duty thing dosen't really matter that much for me.