Finally Part II: And after a week of waiting since the
Blusher Brush Part I: The What Not to Buy
, here are the cheek brushes that I usually use.

A few month back, when I was looking at somebody's Stila collection, still a little bit obsessed with the packagings of a certain Japanese line, I thought I would never get into Stila...It was probably the way she present the pictures weren't very appetizing. Then in a beauty blog, I saw this cute brush as that girl's will-die-without item, I was bewitched and immediately chipped in and grabbed this brush from Amazon and after I received this brush, my interest in Stila boomed.


Stila #21 Double Duty Cheek/Contouring Brush
: The Holy Grail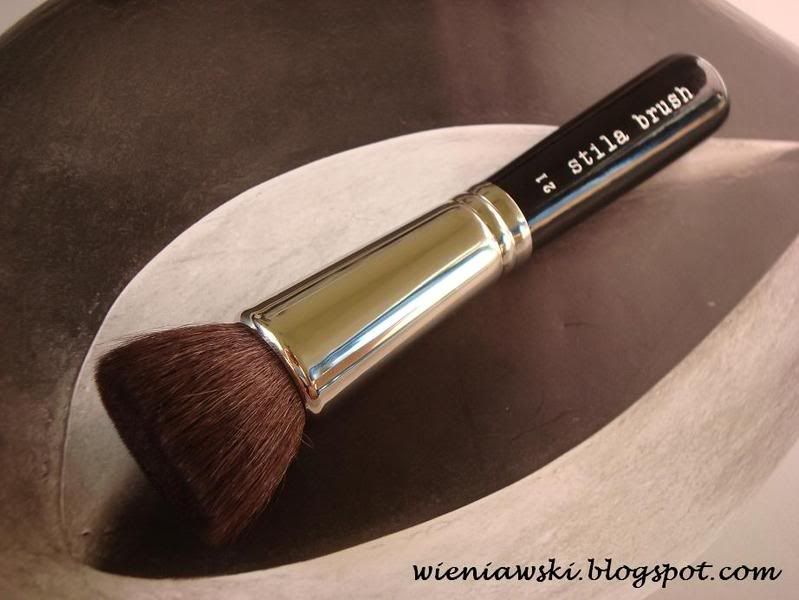 Cute brush, huh? I just love anything that's shiny...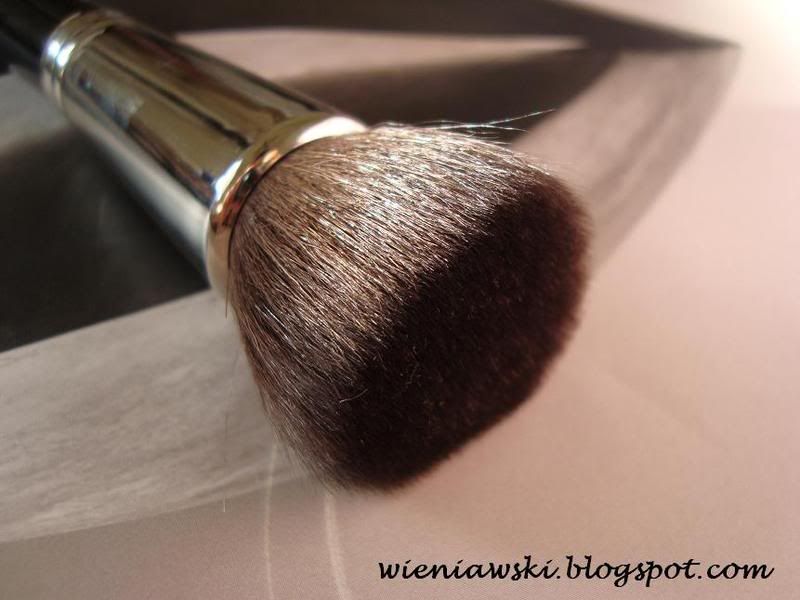 And you can tell how soft it is just by looking, can't you?
It has very fine goat hair firmly packed in the barrel, the flat surface is soft as air, the glossy black handle is bulky yet cute, with the name and number printed in a cute font. No shedding.
While it doesn't pick that much of a product at once, just enough so you can play around with any shade, it's superb at spreading that tiny bit of blush and giving an even and glowing look to your cheeks. It's so easy to use that I just dab-and-swirl it all the way!
Stila brush is steep, but it's worth every penny you pay for, but if you are still debating over it and want cheaper alternative. Let's head to another brush that I love which is 1/5 the cost of the Stila #21.
When I was showing off my brush roll to a friend of mine, she made a comment about how professional the brush roll looked and how
unprofessional
my brushed are... I don't use powder foundation, so I just have a couple of blusher brushes sticking around and one or two drugstore eyeshadow brush filling the empty slot.
"Beside these two...", She pointed to two of my brushes. One of courses, was my Stila #21, (she'd better, that brush cost more than all the other ones combined in the roll...Of course, Anna Sui is quite expensive, by it
never
made it to my brush roll...Another one was
this.
Wet N Wild Beauty Benefits Blush Brush


Before I make my formal introduction of my new grown favorite, Wet n Wild is a what I normally call a "dirt cheap" drugstore line. However, their nail color, eyeliner, shadow are much better than those from Maybeline when they are only 1/3 of the cost! Beauty Benefits is a slightly more expensive sub-branch of the brand with an award winning mascara and some other lovely products which I will review later.
What caught my attention was the price. Frankly, I thought 8 dollars for a drugstore brush (and a dirt cheap line) was quite expensive...My curiosity in addition to a 2 dollar off coupon cut from a Sunday newspaper (that just happened to lying on the shelve...I wonder who put it there) resulted yet another just-for-the-heck-of-it purchase.
The Black Dots ( If you click for bigger) on the picture are my pathetic attempt at fixing the left over powder on the brush...I don't feel like using PhotoShop...Well, like I know how to use it in the first place...
I am very glad that I did pick this up! This brush was just as soft as the Stila one and offers even and natural application.) It's not as compact as Stila, makes it perfect for blusher that are lighter in colors i.e Benefit Thrrrob/Georgia Peaches/Dandelion. And it's very light and portable, I can just stuff it back to the plastic case it came with and shove it in my bag without squashing it. The hair is synthetic and anti-microbe, a perfect excuse to not wash your brush too frequently...maybe not.
Beside the "cruelty free"rabbit at the back, as for all Wet n' Wild product, there is statement that's a tad bit amusing:
"This product is not test on animal..."
Are they implying that other brands test natural hair brush on animal... Who are they? Nazis!? (Sorry if I am being culturally insensitive, ahem.)
I shall just get back to topic...
Sonia Kashuk Blusher Brush
: The Almost Perfect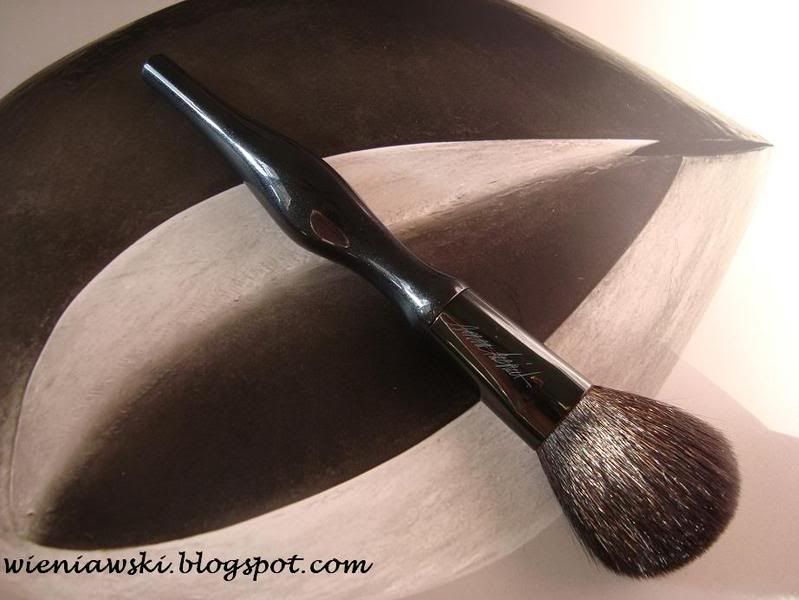 For some random reasons, this brush reminds me of a quote from a chemistry teacher in our high school: "Only women and horseshoes should have curve."Of course, he told us after we had a majority bombed out test.
Actually I first got the flat top synthetic one like this (I had my camera with me when I was at target...so, I did something that I wasn't supposed to do...) and the moment I opened it...I was shocked: This thing shed like a post-chemotherapy Persian cat! I mean, it's is soft and comfy and nice looking and all that. But at this rate, I would only have a handle by the end of summer...
I returned it right away. Since I didn't want to take a chance and get another defective one, I grabbed the regular one, this time I did a mild pulling test and the brush passed!
What I love about this brush is that the bristles are very firm (great at picking up color) yet, to the touch, it's like gentle summer breeze brushing against your face, it's just so soft...imagine you are touching the Russian Sable Coat of Wilhelmina Slater (watch Ugly Betty if you don't know what I am talking about) It has a very sleek (both the hair and the handle) and curvy look to it. I would totally think that it's a boutique brand just by looking at it.
So why I did add an "almost" before"perfect" ?
As you can see, the brush came with a sturdy plastic case as a marketing scheme to make it look higher class compared to the ones housed in plastic sleeve, the brush itself is clasped
securely
inside the case.
The problem is: it's way too secure, when I first took it out I had to pull it and as a result of that, some paint got scratched off from the pretty handle. Not that it's very noticeable nor it bothers me, but if the people who came up with the plastic case idea paid a little more attention to it, this
could
(but not necessarily will) be my holy grail. Have you noticed in the picture that the brushes from Sonia Kashuk are almost sold out? I mean, despite the peeling thing, they are nevertheless
great
.
* Murmuring to myself* " Please please Sonia! Don't raise the price..."
So, here are three brushes that will pretty much get the job well done and give your face a pampering experience and later, I will talk about my cheek color blusher and cheek stain, expect to see a lot of eye candies!
P.S. I am becoming a totally blush person (Thanks to PJ, A Touch of Blusher@ blogger and numerous other beauty forum goers) ...they are so easy to use (I just dab two big circles.) they brighten my face a big deal and doesn't get away when I eat!