I simply have to dedicate this post just to this gloss...but seriously, this is by far the prettiest gloss I've come across. DiorKiss, Juicy Tubes, Paul and Joe are cute...put this one is just down right gorgeous! And the best part?
It's less than 7 dollars!
Let's hear the drum roll...
Sally Hansen Lipnotic Gem Gloss in Treasure.
I was wondering around in the grocery store and "accidentally" got in the cosmetic session and saw that they finally restocked the line. And without a doubt, I grabbed the last one in Treasure, a bright and sheer rosy color with fine micro flecks of light all over it! Yes it's flecks of light, not glitter or shimmer.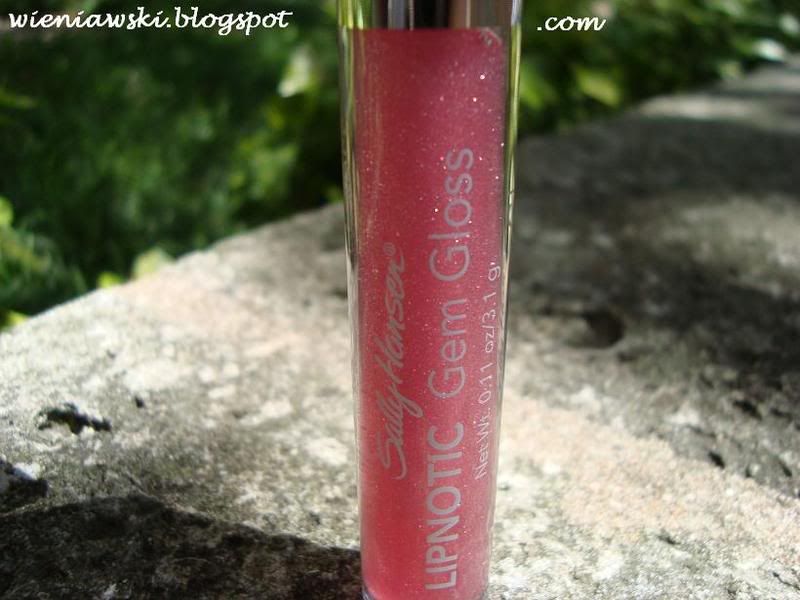 The gazillion pieces little flecks, the so-called crusted gem, according to the
website
, are tourmaline, citrine, amethyst powder, ruby powder. They fill the whole to and reflect lights as a disco ball as I rotate the tube around (It's too pretty! I have to play with it.) and don't worry, it doesn't look frosty at all.
Diamond dust melted in rose quartz gel...And by the way, although I call this is a budget gem, you are actually not paying 7 dollars for much product, only 3.1ml to be exact...And for your reference, a squeeze tube of DiorKiss and Juicy Tube has around 17ml of actually gloss in it. But I will never call it a rip-off since it just looks much better than my Dior and Lancome, both in the tube and on the lips...
I like my gloss to go on as a very thin layer and has a watery, not glassy sheen and with minimal shimmer/glitter...Dior's texture is alright but to much contents...Juicy tube is sheer enough, but it really went on like a magnifying jelly. I have sausage lips to start with, so the last thing I want is plumping effect.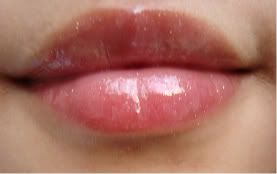 A little swatch for your information. The gloss itself looks best when it's in motion and each of the flecks reflects a little bit of light and bounce the rays out in various intensities. The finish is a beautiful wet sheen but it doesn't last as long as the other more expensive lines. But I really don't mind since I love taking out the tube!
I think all the Sally Hansen lip product deserve the title of the ultimate drugstore gems...All of them are in wearable colors, have a pleasant soft scents and definitely condition lips really well. This is the only drugstore brand that I kept coming back to. ( This is my 9th Sally Hansen lip product!)