The matte version of the famed/hyped Milani Baked Blush (
Milani's site
is running a 30% off sale til the 5th,with code
CYBERWEEK
) was released spring of this year. After having looked at several overwhelmingly positive reviews, I decided to get one...Actually, it was always on my list since it came out (I was just waiting for a sale).
If you remember my previous
Milani Baked Blush review
, while I love the refined texture and lasting power. The two shades I picked just aren't all that flattering on my skin tone(I have heard so many people called Luminoso universally-flattering and it looks like luminous mud on me, guess I am out of this universe).
For the matte formula, it's seems quite powdery on the brush with a lot of fall out. Given that there is the strong pigmentation and vibrant color, a fluffy duo-fiber and/or delicate touch is a needed. Unless you like clown cheeks.
Once on the face (hyper pigmentation concealed and lightly dusted), it blends so well, into a texture-less stain like finish (it does stain after I swatch it on my arm). The lasting power is good that the windblown flush is still apparently/maybe even fresh after 5 hours. The cool pink-red is so fitting for winter-time, that I wasn't sure was it the color staying fresh or it was my actual winter flush. The polar front did hit Texas after all.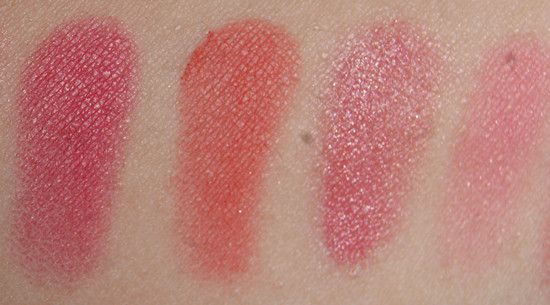 Bella Rosa, Mai-Tai, Revlon Charmed Cream Blush (too sheer for my liking and the color is somewhat dull on me), Majolica Majorca Cherry Macaron (which applies very lightly itself, I love using it just because of that)
Here is a pictures of some roses to make up for lack of face swatch (this color would probably show up very well in picture).