I am not sure when this is released (but I am guessing it was within the past few month). I have been pretty into rose gold (then I need a cheaper filler to use coupon) so I picked the Maybelline Expert Wear Eyeshadow Single. The new package is black (instead of clear blue) and seems a little tougher than the older one. Again, this comes with a squishy sponge applicator that looks like it will fall off pretty quickly.
Wet n Wild A Little Party (primer), Maybelline Pink Wink, Milani Luminous (blush), Kiko Pearly Beige Silk, Maybelline Color Tattoo Bold Gold, Rimmel Mayfair (the pink shade in the quad), Milani Sand Dune and another Color Tattoo Inked in pink. Looking at the pan, I assumed that the shade would be similar to golden peachy pink blushes but on my skin, it appear much more golden and not really all that pink.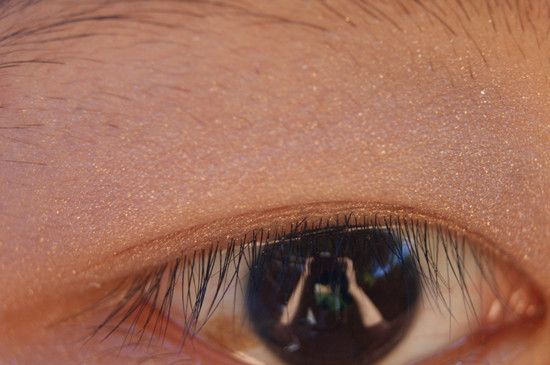 Anyway, the shadow's quality is pretty good. Smooth, finely milled and applied very evenly. It's not an slap-on-and-go shades for conservative look but it's not frosty either. I think it will work well with a beachy (glossy eyed) kind of summer look...Ok, I will find a way to use it.
P.S. I am just trying to post up a bare lash picture, as a reference to my coming up mascara review. (Gotta multitask.)