There are very few fibrous mascara in the western world (Japanese seems to be more into this kind of thing) so when Rimmel released this Lash Accelerator Endless Mascara (combined with the same ingredients as the lash serum), it sucked me in like McDonald's hot fudge sundae (I order it almost every time I am there).
The plastic wand is conical and a little bouncy, the bristles are a little pokey and seems too short for the creamy mascara paste. The formula itself is a little heavy (and frankly I can't see the fiber amongst the creamy concoction) that it dries rather slowly. If you have naturally thicker and fan-out lashes (mainly speaking to those who are not East Asian...Oyy) this should work beautifully when it comes to adding length and volume.
So, it weights my lashes down...On the bright side, the heaviness really lift my eyelids and creates a visible fold (I have hooded lids that is essentially mono-lid with the added bonus of smudges liner/shadow). The lengthening and thickening is very noticeable and dramatic (well, you can't see it from my picture but I swear it's there) and even though it's slow-drying, it doesn't smudge that easily on my oily lids.
Overall: I like the lengthening and lifting (could do without the thickening part since it weights down my lashes) parts and I actually notice some growth after using it. Covergirl lash blast volume is still my preferred formula as it's thinner and drier but I would recommend the Rimmel to those without the dreaded pin-straight poke-down lashes like mine.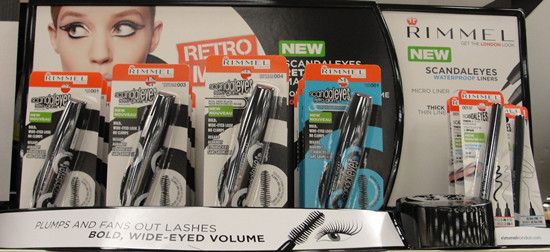 Random spy cam picture from CVS - There is also a waterproof version of the ScandalEyes Retro Glam mascara and micro liner in another display.