Paul Joe Eyebrow Powder 02 (I call it light ash) was one of the brow tint purchases I made last year, when I was "in the mood" for strong brows (my standard "kick" consists of a butt-load of drugstore products then a high end one to "seal the deal"). The brow duo, which is the lighter of the two shades available, has light brown taupe on one side and a greenish gray taupe on the other, the effect of the two shades are not too different on my skin so I use two shades at the same time, blended together, to prevent an uneven dent.
Normally I dislike tools made by Paul & Joe (I have only tried the mirror and a brush, which are enough for my life) as they are light, flimsy (even compared to tools by elf) and awkwardly constructed. However, the freebie brush that comes with it, was a pleasant surprise. Not only the pearly body is solid enough for the size, the brush also comes with enough bristles with a straight cut, giving a grabby tip (needed since the powder is very firmly pressed together) and relatively big surface area.
Paul Joe Eyebrow Powder and Rimmel (the pencils looks taupe but it ended up looked like a reddish brown on my skin) and NYC ( a decent taupe with a green undertone but the formula is too waxy/wet). The firmly pressed powder has a thin, dry but finely milled texture that's not only hard to overdo, it also darkens over time (with the help of body heat and oil) to compensate for any fading....So it lasts for a whole 8 hours day on me and is still easy to remove.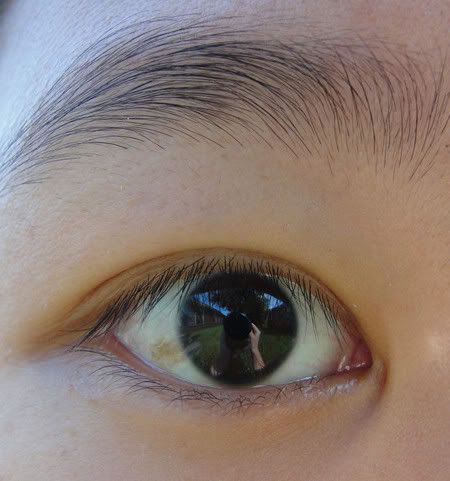 Bare Brow and Eye - I know it's actually full enough at the moment, but you never know when would a bald patch appear (Maybe I should just stop pulling...) Currently, I growing the arch back into more of a straight, slanted brow line since whenever I pluck, I mess up on the arch anyway. The process was surprisingly short and easy, since my brow hair grows like weeds...
With Paul & Joe Eyebrow powder 02 - You can still see the silhouette of the powdered area this close (On a side note, I think I need to start using some hydrating eye cream) but it looks like the light shadow cast by my own brow hair a few inches away.
Overall: Pretty, practically designed packaging aside, this is by far the most natural-looking as well as the most long-lasting brow product I have tried. I don't really need it at the moment but at least I know what to reach for when I get carried away with the OCD pulling.