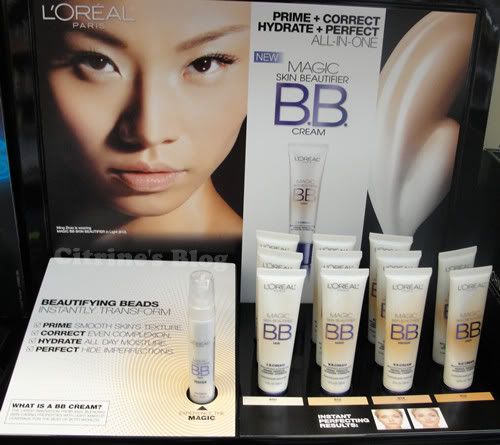 Apparently, beside the
Youth Code one
(that I spotted at Walgreens), there is another version of the L'Oreal BB cream called Magic Skin Beautifier (at CVS) . This one claims to "prime, correct, hydrate and perfect" (instead of illuminate, moisturize and correct skin tone) and comes slim tube, just like the version called
Nude Magic
available at Europe. Randomly, what's with that "pretty" Asian model's expression?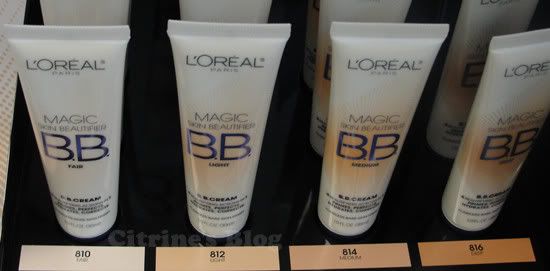 There are four shades available: Fair, Light, Medium and Deep. I gave the sample in Light a little back-of-hand (which is probably at least NW 30 due to all the sun exposure, as I always wash my hands after applying sunscreen, so the sticky residue won't get on my camera's grip) testing.
The L'Oreal BB cream has a liquid (non sticky or creamy) base with many micro beads (at least that's what they feel like) that appears white at first but immediately changes into a pinkish beige that feels weightless and comfortable on the hand.

On my back of hand, the colors seemed like a spot-on match....That's until a few minutes later, when the whole thing turned into a burnt-reddish brown patch. The back of my hand is already pretty tanned so I am not sure how ridiculous it will turn out once it's on my face. If you are NC/NW 30 or lighter, you might want to go for the one in Fair...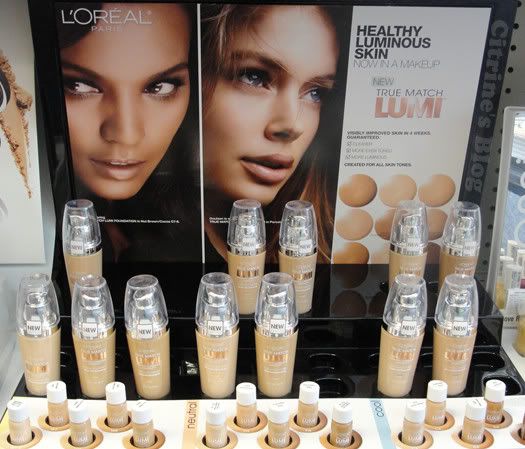 New foundation called True Match Lumi - with 15 shades available
This one is from ULTA, Visible Lift repair absolute foundation

A fuller display for the Colour Riche Colour Caresse lipsticks (at Target)