This month's reading list is not even a list, as the only online reading I found interesting is the result of the
2011 Ig Nobel Prizes
(The Vilnius mayor won the peace prize for
running over illegally parked car with tank
, Jascha Heifetz would be so proud...) so here is a random picture of a squirrel (don't we all love fuzzy animals?) and a funny tweet from Weibo.
This little guy was looking at me with a curious expression when I was taking picture of another squirrel (who by the way was such a professional model). No hard feeling, I get this kind of look all the time...


Anyway, the funny weibo tweet of the week has something to do with the Shanghai subway crash that happened a few days ago. While around 200 people got hurt, nobody died and that's why...the news reporter introduced a new phrase: "Light Crash"...Here is what an unnamed person has to say about the accident, in the form of
Chun Lian
(Chinese new years door banners, which consists of two vertical banners with writing that are in mirror symmetry, both literally and phonetically. Then a horizontal one/center piece that summarizes the two vertical banners)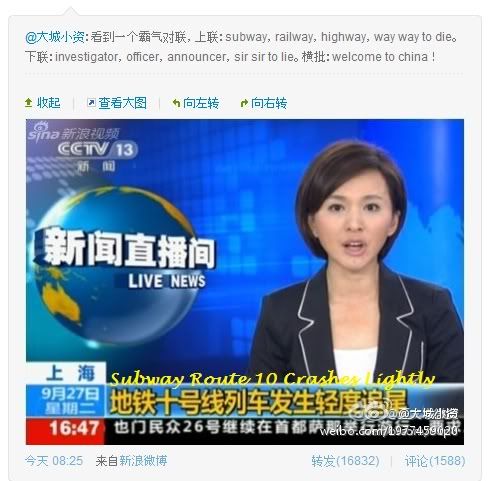 Subway, railway, highway. Way way to die
Officer, investigator, announcer. Sir sir to lie.
Welcome to China!
Last but not least...
Happy Birthday to Communist China, Nigeria and Vladimir Horowitz!