Blog posts about Monthly Favorite are fun to read (to a certain extend, because how many Nars-Blush-Dior Bronzer-Wet-n-Wild-eyeshadow-on-white-background do you like to see? For me, not a hell lot.) but not as fun to compose. First, I never gather enough products to "love" on a monthly basis and then comes fetching, cleaning (nobody wants to see a shot of your freshly used foundation brush, really...) outdoor photo (Yes, I am insane.) part... It's a lot of planning and work that I am too lazy to commit monthly.
Anyway, to fulfill your desire (of looking at many beauty items piled together) , here are some of my favorites for the first half of 2011, not (OK, there is one) including lip products (for that I will need a separate post, and a much bigger trunk).
Paul & Joe Face Color in Harvest Moon - Suzi Weiss-Fischmann (aka the woman who has the burning desire to drop her name at least once in every OPI collection) is right, a good mandarin is hard to find. Lucky for me, I have found it: Harvest moon is the perfect warm flush that really works all year round...and of course I just had to drop it (on concrete floor +_+) the day after I took this picture. Don't worry, the matte orange part is alright and I managed to get the whole blush repressed (in a ghetto..ghetto but usable manner)...

Because you should never give up on your mandarin.
Essence Blush Brush
- It air dries within hours! Anything (anyone) low-maintenance like this should be loved by the masses.
Wet n Wild (for brow) and L'Oreal Lash Serum - Pulling out lashes/eyebrow has never been so justified.

Missha & Innisfree Sheet Mask- Is there a better pick-me-up after a vigorous scab-picking, zit-squeeze (sorry mates, I can't help it) session? This stuff (not talking about picking scab) is addicting.


Benefit Coralista - Smells so yummy that if it were a lipstick, I would eat it. (It seems like an item so popular that it has already become a beauty-blog cliche.)
Too Faced Retractable Kabuk
i
-
Cliche No.2 that I feel obliged to include in every single "Favorite Anything" post.
OPI Over The Taupe/ Borghese Vaggio Mauve
- I don't even know what to say beside...I like muted lilac and taupe?
Stila Convertible Color in Peony
(Look how legitimate my favorites are! There is an visible dent on Paul & Joe blush and both Lash Serum are half-finished.) - Dusty rose-peach that's natural-looking, long-lasting and a joy to play with (dot-and-blend is just more fun!). If my lips get scarily red, it manages to tone it down (so I don't look like I have just eaten some animal alive)...
Wait! It's not finished and here is a second half...
Benefit Dandelion (You should see the now-huge dent on it) - For some strange reason, the pale pink blush actually shows up better, without looking garish with my darker, summer skin tone (OK, I guess not that dark, since the only shade concealer I use still works perfectly).
My Green Mosaic Wallet - Which might as well be called coupon/receipt keeper since it's filled with anything but money. (By the way, the green M & M's tin is a photo bomb that I decided to include since there are so many green items.)
Vintage (reproduction) Barbie Doll Key Chain from the 90s - Another photo bomb purchased from a local doll shop, since the the chain was bolted right below her nape, it hangs like a corpse.I still like her outfit though...
Revlon Flavor Gloss in Appletini Fizz (So I forgot the "Fizz" in my review for it) - A few days ago I thought I found the perfect location (more like a position right beside my bed but that sounds a little dirty) for lips swatch (it turns out that "perfect" on camera screen means grainy in monitor) so I swatched, revisited what seems like 40 different lip products... by the end of swatch-wipe-swatch session, my mouth looked bloody and felt like it was about to fall off (Lesson learned, the most gentle physical lip gloss remover is indeed my inner arm).
So what does it have to do with Revlon? Well, you always need some wet, nice-smelling things to sooth things out when mishaps like that happen ...And I am amazed that the print on the tube still hasn't got rubbed off (happened to my Shu Uemura squeegee within a week!). Bravo to those Revlon package designers!
Walgreen Brag Book - Because it's always more self-gratifying to see your photos in print. This piece of s--- deserves an individual review since it's actually quite horribly made. In fact, what you are looking at are actually the pages of the book I cut off. The binding and covers are really that bad. So technically, what I am liking is "Admiring my pictures in print", not the book itself.
Nephrite Jade Bangle Bracelet with a matching enameled bangle -
This is by far the best piece of green nephrite jade I own (in terms of color and the fine crystal structure) but it's way too big that I can almost call it an elbow-let. The only solution is to get it carved (or just chop them into round beads) when I go visit China, because no postmenopausal fattening (that's
what all Asian women do
right? According to some creepy @$$ white dudes.) is going to make this fit...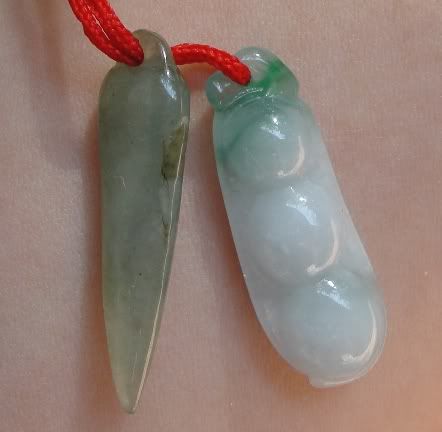 Since I can't really wear the bangles (even the enamel one drops off when I put my arm down), I have been liking my jadeite pendants instead, which are shinier, cooler (as the green has a blue undertone) that's generally preferred by younger people. It has been a lot while since I last gotten any jadeite so now I want more, like this icy cock...I mean this cartoon
icy jadeite rooster pendant
(and
there
is a bigger one!) from the taobao store
The Armor of Time
. Just imagine how many inappropriate jokes you can crack with that one!
P.S. To the friend (who introduced me to SNL, a miscalculation on her part that eventually led to my discovery of
Dick in the Box
, and my act of singing the song all month long...In her face) who once told me "Oh, you wish you have a dick!", I indeed want one...
I am still talking about the jade pendant.