Before I was into jade(I always like jade,it's more like now I know how to pick decent ones), I went through a little pearl phase back in my high school days. One of the reasons that is that it went briefly back in style in my sophomore year, many girls were seen with a pair of pearl studs to match their preppy American eagles tees and low-rise jeans. Another reasons is that the luminous gem, seem so elegant, classy and grown-up (basically words that I will never used to describe myself).
Black pearl earring with a greenish purple sheen that my mom "custom-purchased" for me (she always complains that every time I call her is to making an international phone order, trying to make her buy some "useless crap" for me.) 7 years ago. The pearl wasn't particularly expensive (I grew up in coastal town in which pearl is one of the commodities) but it's rather smooth and ripple free...The other one was unfortunately lost it in my massive pile of junk...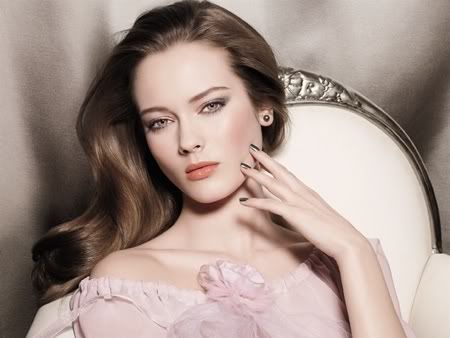 The black pearl earring also bring me one centimeter closer Monika Jagaciak (Santa, I know this is a bit early but for this Christmas, can I have her face?), who is one kilometer away...
A smaller button pearl stud earrings - this one is rather boring and oftenly neglected. I feel that lighter pearl studs need something classier (not my style) to match.
Mauve pink and white pearl charm bracelet -A gift (actually it was a gift with purchase but I was too fond of the necklace so I let my mom keep it for me) from a friend of my mom (who happens to be a Japanese ojisan/uncle). I am not sure if the pearls are of Japanese origin but I love how cute but not in-your-face/ pre-teen kind-of-cute it is, which is generally how Japanese accesories are.
Do you like pearl? What do you match it with? I like to wear pearl with minimal color makeup, clothes with actual cut(no tees or sweatpants) but I think black peal would look so good with fuschia lips...