I have done several lip combos already (OK, just five) and they all seems to be one lip products on top of another lip product. I realized that since I have (had, since I have used up a few, gave out a few and tossed a few)
a rainbow of juicy tubes
and enough eyeshadow to use as laudry detergent, I might as well mix them together and see how they would turn out. All I need are: translucent gloss, loose shadow, lip brush and a mixing bowl.
My recipe was simple
: I wanted a shimmering peachy gloss with a gold sheen and to achieve that, all I need would be something pink and a golden gloss to warm it up but istead of using pink gloss with golden shadow, I decided to go for golden pink shadow and yellow gloss since I need to find a way to use up the Juicy Tube in lemon slice (so I have excuse to buy new ones) as well as the pink
get loose shadow
from prestige(the name of which has long been scratched off).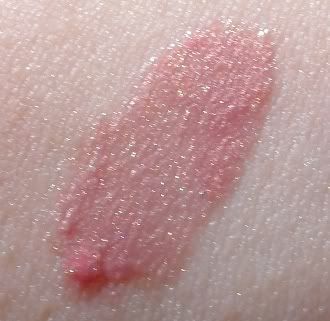 Apparently, Kiwi Slice pickes up all the gold sheen of the prestige eyeshadow, I got a shimmering nude gloss afterward.
I am not sure if I like texture of the combo all that much (it smells really nice though, because of the Lemon Slice Juicy Tube).
Since warm color is never my forte, I decided to ditch the yellow and go for red (
Cherry on Top
) instead, this time I also take it easy with the loose shadow.
While Cherry On Top doesn't smell nearly as nice, it's has a light texture and give a minty sensation. I would say it goes relatively well with the gold in the shadow.
Nothing all that special (as Cherry on Top probably look better by itself or
on top of Benetint
).
Lip Combo Failed.