These Sally Hansen 12 Hr Diamond Lip Treatment are decent glosses, but not quite re-purchase worthy due to the high unit price (7 dollars for 2.6ml of gloss) and not so interesting color selection. But why do I have another one now?
I was just picking up stuff to send to my mom. Do you know picking cosmetic for mom is so freaking difficult, as she is tanner that I am and has different undertone than I do, not to mention she is the type of person who never uses cheap stuff. You all know, I am all about cheap. (I got this part of the genes from my dad, unfortunately.) So I was just attempted to infect my mom with some of my cheap-ness.
Anyway, I decided to still chuff something to make the package look bigger alone with a tube of lipstick (expensive one, as I can only afford one) and some fish oil multi-vitamins . Since mom has the typical warm undertone, I went for orange.
But when I was packing everything up, I just couldn't find this tube then I was like "screw it, I am just going to send the other stuff."
A few weeks later, this tube of lip gloss magically reappeared and what else can I do that doesn't require waste of energy (donating lip gloss is a bit weird)? Blog about it, of course. Since I do have a blog lying around.
Flawless is a thick in texture, relatively sheer in color, tangerine gloss with golden shimmer as well as a fuchsia sheen. (Although the gold is more prominent) the texture is not as jelly like as the other one Baguette I have as the shimmers added quite a big of coarseness in the gloss.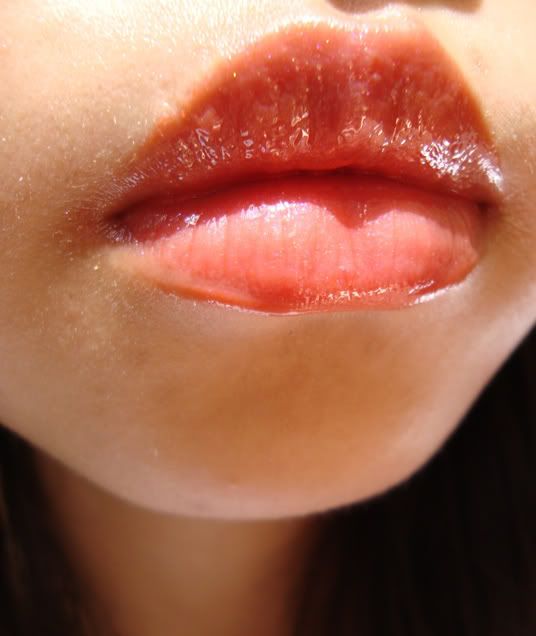 Diamond 12 hr Lip Treatment in Flawless is is lot grittier than Baguette (thanks to the shimmer) and while the color is relatively sheer, a good deal of orange still show and if you look really carefully, you might be able to pick up some fuchsia sheen it has.
Another thing (beside the unit price) I don't like about the gloss is that the lip brush gets split by the thick gloss when you push the applicator back in, going altogether place and after a while, a chunk of hair just fall out.
P.S I will avoid direct sunlight in the future, it warmed everything up...