Haven't I sworn off Maybelline after so many products I've tried ? I guess everything deserves a second chance (even though I hated everything I got from Maybelline). Especially it's a whole new line with some nice reviews from the online community and a fairly pretty packaging.
Anyway, I convinced myself to buy one of the new Maybelline Color Sensational Lipstick, in Very Cherry.
There are four categories for this line of Color Sensational Lipsticks, each with a different lid color: Pink (Rosy Pink lid), Mauve (Purple lid), Nude (Brown lid) and Red (Red lid). My first pick was one of those Pink lipsticks as the lid color is the prettiest in the bunch, but from the limited shades available in CVS, I didn't find a shade that I don't hate, the nude shades has getting horrible reviews in Makeup Alley (it seems that all of them are rancid) and the purple ones either look way too auntie, trashy or simply boring...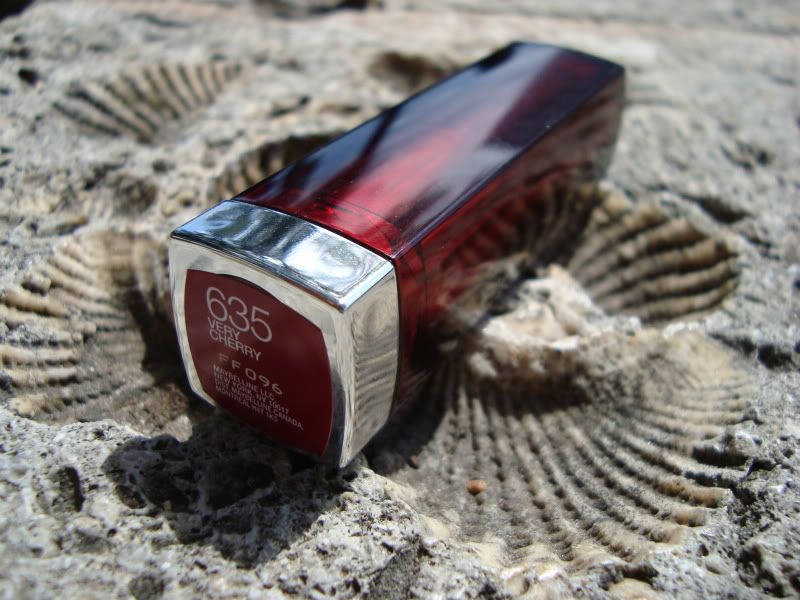 I walked home with a my last choice, a red one, the packaging of which looks very much like Lancome Color Fever lipstick (At least the others one don't look too much like copycat...) I pick the lipstick based on the name
Very Cherry
(635) and from the swatch board on the displayer, it looks like a cool red (cool is my safe choice when it comes to lip color) compared to the only other shimmer free shade, called "Are You Red-dy"...
Please, this is no way a cherry red ( I don't know about other places on earth, but cherries down here are all mauvy red.) a tomato, more like. And I have a little complain about the liptick tube, while it doesn't look too bad when it's new, but it gets scratched very easily and when it does, it starts to look very cheap afterward. I have a couple Anna Sui rouge, even after years of suffering, the tubes still look pretty new...Things like that doesn't happen to Stila, MAC or Lancome lipstick either...
I guess you do get what you pay for, but let's not judge the book base on its cover and head to the swatch instead: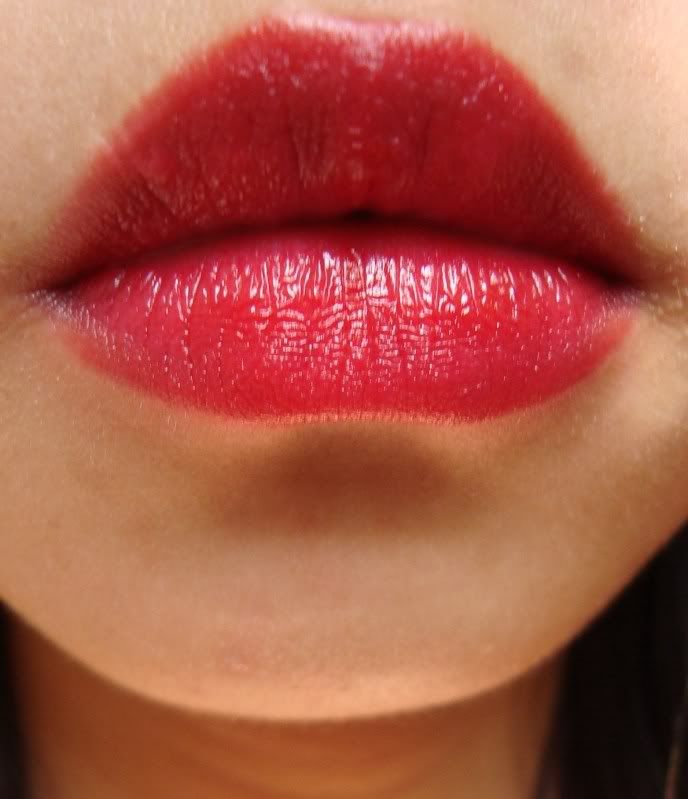 The lip color is relatively smooth and easy to apply but the texture is not creamy nor the color is pigmented enough for me (for a lipstick!), after many layers, the opacity is still not desirable...I can still see a bit (or a good deal depends on your monitor) of cool undertone after many layers of this lipstick.
Overall, it's not a horrible lipstick, but for the $6-7 price tag (Although there is a cheap way to buy it: look for those manufactured coupon with coupon then get it when CVS slashes the price...so I got this tube for 3 bucks) and a tube that can be scratched easily , I personally think you will get better quality with a $1 Wet n Wild. If you want a good color pay off, just go for Wet n Wild and if you want a pretty tube and nice color, there are still many alternatives out there.